Fatah official in Lebanon glorifies terrorist who participated in Coastal Massacre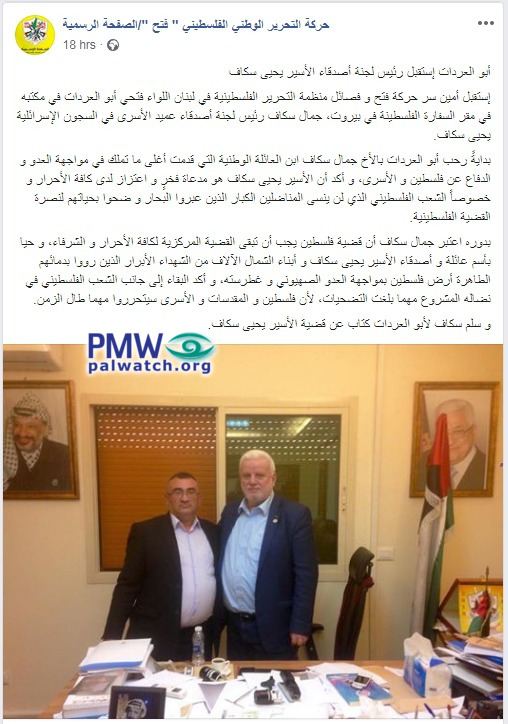 Posted text: "[Fatah Movement Revolutionary Council member and Secretary of Fatah and the PLO factions in Lebanon Fathi] Abu Al-Ardat received a delegation of friends of prisoner Yahya Skaf (i.e., terrorist, took part in murder of 37, 12 of them children; Israel stated Skaf was killed in the attack and his remains transferred to Lebanon)
Secretary of the Fatah Movement and PLO factions in Lebanon Fathi Abu Al-Ardat received Jamal Skaf, Head of the Committee of Friends of Most Veteran Prisoner in the Israeli Prisons Yahya Skaf, yesterday [May 1, 2019] in his office in the Palestinian [PA] presidential headquarters in Beirut.
In the beginning, Abu Al-Ardat greeted Jamal Skaf, a member of the patriotic family that sacrificed that which is most precious to it in a confrontation against the enemy and for the defense of Palestine and the prisoners. He emphasized that prisoner Yahya Skaf is a source of honor and pride for all free people, and particularly the Palestinian people who does not forget the great fighters who crossed the sea and sacrificed their lives for the Palestinian cause."
Yahya Skaf – terrorist from Lebanon who participated in the most lethal attack in Israel's history, the hijacking of a bus led by Dalal Mughrabi in 1978 in which 37 civilians were murdered, 12 of them children. Israel maintains Skaf was killed during the attack and that his remains were transferred to Lebanon in the exchange deal with Hezbollah in July 2008, but the Lebanese authorities claim he is still imprisoned in Israel.