Fatah Facebook calls imprisoned terrorist who died of cancer a "Martyr"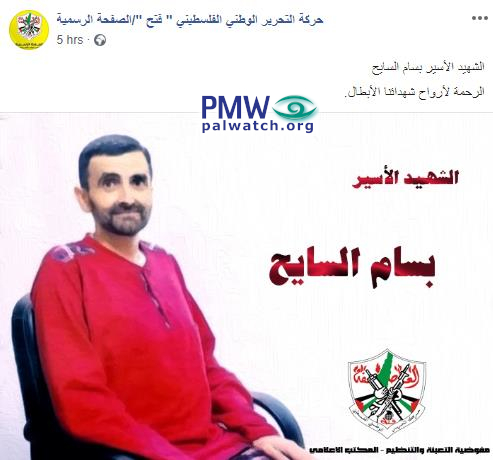 Posted text: "Martyr prisoner Bassam Al-Sayeh (i.e., terrorist, involved in murder of 2)
May Allah wrap the souls of our heroic Martyrs in His mercy"
The image shows terrorist Bassam Al-Sayeh. In the bottom right is the Fatah logo that includes a grenade, crossed rifles, and the PA map of "Palestine" that presents all of Israel as "Palestine" together with the PA areas.
Text on image: "Martyr prisoner Bassam Al-Sayeh"
Bassam Al-Sayeh – Palestinian terrorist who authorized and raised funds for the shooting attack by a Hamas terror cell in which Israelis Naama and Eitam Henkin (also an American citizen) were murdered on Oct. 1, 2015, in front of their four children, aged 9, 7, 4, and 4 months. Al-Sayeh was arrested on Oct. 8, 2015, and died in prison of cancer – a pre-existing condition from before his arrest – on Sept. 8, 2019.