PA official falsely attributes a 6,000 year history to "Palestine"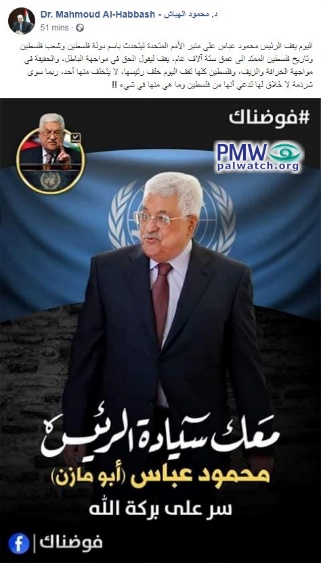 Image posted on the Facebook page of Supreme Shari'ah Judge and Chairman of the Supreme Council for Shari'ah Justice Mahmoud Al-Habbash
Posted text: "Today [PA] President [Mahmoud Abbas] will stand on the UN podium in order to speak on behalf of the State of Palestine, the Palestinian people, and the history of Palestine that extends to a depth of 6,000 years in order to assert the truth against the lie and the facts against the fables and fabrication. All of Palestine will stand behind its president today except for the minority group [Hamas] with no part in the next world that says that it is from Palestine and there is nothing in [Palestine]!"
The image shows PA Chairman Mahmoud Abbas with the UN logo behind him.
Text on image:
"#We_have_authorized_you
With you, Your Honor President Mahmoud Abbas
Go in peace with Allah's blessing"