PA advisor criticizes Hamas for supporting Israel's "claim" that two "innocent Martyrs" were terrorists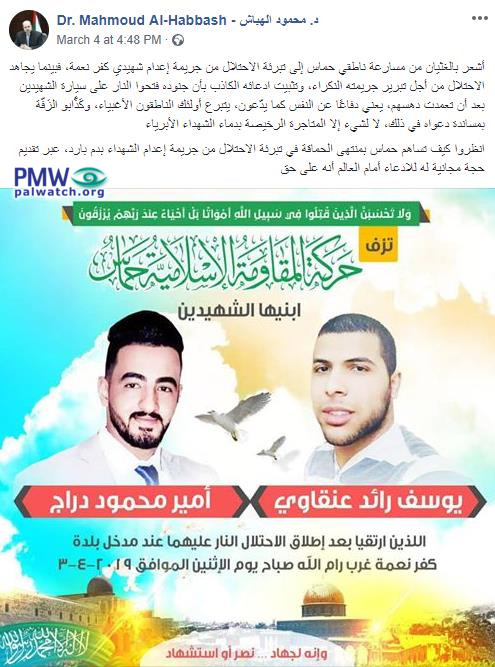 Text and image posted on the Facebook page of Supreme Shari'ah Judge, PA Chairman Mahmoud Abbas' advisor on Religious and Islamic Affairs, and Chairman of the Supreme Council for Shari'ah Justice Mahmoud Al-Habbash
Posted text: "I feel sick over the Hamas spokespeople hurrying to exonerate the occupation of the crime of executing the two Martyrs (Shahids) in Kafr Ni'ma. While the occupation is striving to justify its despicable crime and prove its false claim – according to which its soldiers shot at the car of the two Martyrs after it deliberately ran them over, in other words, it was self-defense, as they claim – these stupid spokespersons and wedding liars (refers to belief in Islam that Martyrs marry the 72 virgins in paradise -Ed.) are supporting its claim in this matter, just to trade cheaply in the blood of the innocent Martyrs.
Look at how Hamas, with the utmost stupidity, contributes to the exoneration of the occupation of the crime of executing the Martyrs in cold blood by providing it with a free excuse to claim before the world that it is right."
The image shows a Hamas poster for the funeral of two terrorists who carried out a car ramming attack, wounding 2.
Text on image:
"'And never think of those who have been killed in the cause of Allah as dead. Rather, they are alive with their Lord, receiving provision' [Quran, Sura 3:169, Sahih International translation].
The Islamic Resistance Movement Hamas accompanies its Martyr (Shahid) sons to their wedding (i.e., Martyr's funeral is considered wedding to the 72 Virgins in Paradise in Islam)
Yusuf Raed Anqawi and Amir Mahmoud Darraj (i.e., terrorists, wounded 2)
Who ascended to Heaven after the occupation shot them at the entrance to Kafr Ni'ma west of Ramallah today, Monday morning, March 4, 2019
It is Jihad, victory, or Martyrdom-death (Istish'had)"
Yusuf Raed Anqawi and Amir Mahmoud Darraj – Palestinian terrorists who rammed their car into a group of Israeli soldiers, wounding 2, northwest of Ramallah on March 4, 2019. Anqawi and Darraj were shot and killed during the attack by soldiers. A third terrorist who was with them was arrested.