Fatah posts article by Abbas explaining how his family voluntarily left Safed out of fear of alleged "massacres"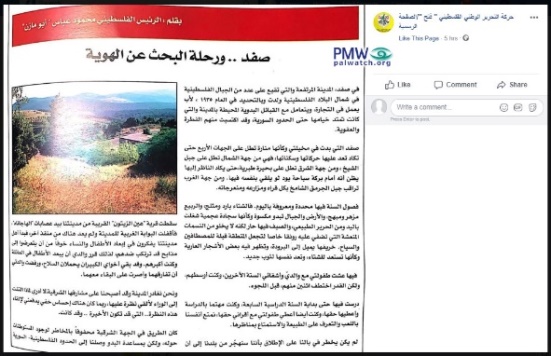 Text and image posted on the official Fatah Facebook page
Posted text:
"Safed and the journey to seek the identity
By: Palestinian [PA] President Mahmoud Abbas"
The image shows an article written by PA Chairman Mahmoud Abbas.
Text on image: "I was born in Safed, the high city that is located on a number of the Palestinian mountains in the north of the Palestinian land, in 1935, to a father working in commerce, and who worked with the Bedouin tribes surrounding the city, whose tents spread to the border of Syria…
We never thought we would be uprooted from our country until the village of Ein Al-Zeitun, which is near our city, fell into the hands of the Hagana gangs (i.e., Jewish defense forces in the pre-state period) and they closed the western entrance to the city, and there was no other way out. The residents of our city began to think about moving the children and women away out of fear that they would fall victim to massacres liable to be committed against them, and therefore my father decided to move away the children in the family, and I was the oldest of them (i.e., of the children who were moved -Ed.); my two older brothers stayed with weapons, and my mother refused to leave them and insisted on staying with them.
We left the city and were already in its eastern outlying districts, and I do not understand why I looked back to glance at it. Perhaps I had a hidden feeling that made me take that look, which was liable to be the last – and it was indeed so."