Terror org Hamas condemns terror attack against German synagogue
Headline: "Hamas condemns the attack on the synagogue of Halle, Germany"
"The Hamas Movement today, Oct. 10, 2019, condemned the terror attack that was carried out yesterday evening (Wednesday) against a synagogue in Halle, Germany (the attacker failed to break into the synagogue on the Jewish holiday of Yom Kippur and murdered 2 people on the street –Ed.).
The Hamas International Relations Council said in a statement that terror is a danger threatening all of us around the world, and that we all must cooperate to stand against it.
The council added that this terror attack proves that terror is not connected to religion, homeland, or state; it is deviant behavior that targets people and their security.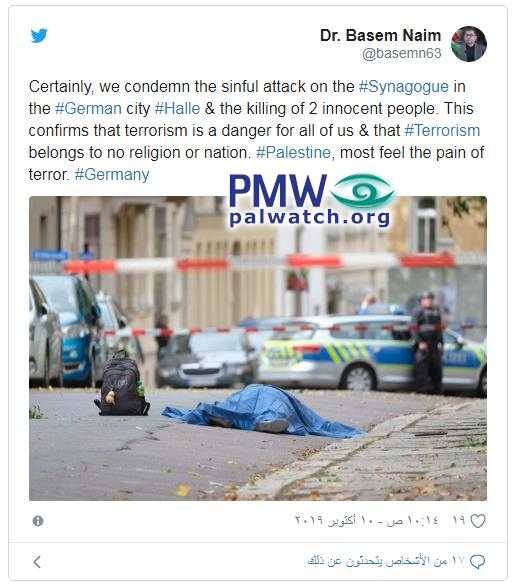 The statement said: 'We Palestinians, as victims of the Israeli occupation terror, know best the meaning of terror and its destructive effects.'
In a statement, condolences were conveyed to the families of the victims."
The article includes a screenshot of an Oct. 10, 2019 tweet from the Twitter account of Hamas International Relationship Office member Basem Naim, which shows a picture of the body of a victim of the Halle terror attack and the following text in English: "(All errors in source –Ed.) Certainly, we condemn the sinful attack on the #Synagogue in the #German city #Halle & the killing of 2 innocent people. This confirms that terrorism is a danger for all of us & that #Terrorism belongs to no religion or nation. #Palestine, most feel the pain of terror. #Germany"