Israeli Channel 20: Antisemitic preacher responds to backlash following PMW's exposure of his statements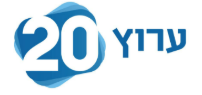 Israeli TV Channel 20, translated from Hebrew, on Sheikh Khaled Al-Mughrabi's sermon on June 12, 2015 in response to a PMW report on a libelous antisemitic sermon he gave in May 2015
Headline: "In the heart of Jerusalem: The blood libel is back in fashion"
Sub-headline: "The Al-Aqsa Mosque preacher complains: He sought to give good advice to the Jews, to dissuade them from drinking the blood of children who were abducted. And they rush to brand him as an Antisemite"
"Sacrifices to Satan
Last month [May 2015] the Jewish world raged when the research institute Palestinian Media Watch presented a video from the YouTube channel of the Al-Aqsa Mosque, and in it a sermon in classic antisemitic spirit by Sheikh Khaled Al-Mughrabi. In the sermon the sheikh repeated the blood libels that prevailed in the Christian world, and accused the Jews of drinking the blood of children. He claimed that the persecutions of the Jews in Europe in general, and in particular their extermination by the Nazis, were an act of self-defense against the cruel custom.

The sheikh also claimed in the sermon that the Jews are taking over the world with the help of the Freemasons' offices. He told his large audience of listeners that in order to be accepted by the organization, or in order to advance in its hierarchy of roles, the Jews sacrifice one of their family members as a sacrifice to Satan. Al-Mughrabi also claimed that the Jews stand behind the large terror attacks in the United States.

Hard to give a Jew advice
The media in Israel did not address the topic. However, the Simon Wiesenthal Center in the US demanded that the Jordanian royal family and the Palestinian Authority Chairman [Mahmoud Abbas] condemn the sheikh's words. Following the attack on him, Al-Mughrabi gave another sermon last Friday [June 12, 2015] at the Al-Aqsa Mosque, in which he sought to clarify his intentions:
'If you give advice to a Jew, he immediately says: You're inciting to racism, you're an Antisemite. It has become a cliché for them, a fixed statement, a cliché, which they stick on every person who gives them advice,' the sheikh said in his defense in the sermon. 'There is no doubt that we don't deny that the Children of Israel cause great damage to all people in the world, we don't deny that. But at the same time, when you return to the essence of the verses of the Quran, and when you draw closer to Allah, you pity these people, you feel sorry for them.'"