Youth dorm in converted prison named after terrorist Mughrabi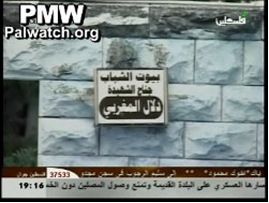 PA TV prisoners' program –
For You
The program filmed at the premises of a former prison, Al-Far'ah in Tubas.
The prison has been converted into a center for young leadership training, named after "the
Shahid
(Martyr) Salah Khalaf" (Abu Iyad).
During the filming, a sign is shown on one of the buildings: "Youth dorms –
Shahida
(Martyr) Dalal Mughrabi Wing."
Program guest, Mahmoud Sawafteh, chairman of the Prisoner Club in Tubas: "We must remember the 32nd anniversary of the execution of the Palestinian fighter prisoner, the
Shahida
Dalal Mughrabi."
Note: Dalal Mughrabi led the most lethal terror attack in Israel's history in 1978, when she and other terrorists hijacked a bus and killed 37 civilians, 12 of them children.