PA official honors mother of 6 terrorist murderers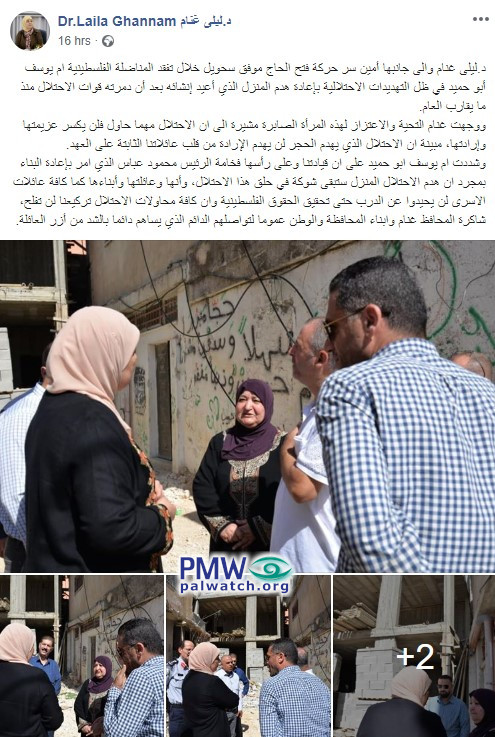 Text and pictures posted on the Facebook page of Ramallah and El-Bireh District Governor Laila Ghannam
Posted text: "[Ramallah and El-Bireh District Governor] Dr. Laila Ghannam, and next to her Secretary of the Fatah Movement's [Ramallah and El-Bireh Branch] Muwaffaq Sahwil, during a visit to Palestinian fighter Um Yusuf Abu Hmeid (i.e., mother of terrorists responsible for at least 10 murders; see note below). This was in the shadow of the occupation's threats to again demolish the house that was rebuilt after being demolished by the occupation forces approximately one year ago.
Ghannam blessed this woman who stands firm and expressed her pride in her. [Ghannam] noted that the occupation, try as it may, will not succeed in breaking her determination and willpower. She explained that the occupation, which destroys stones, will not succeed in destroying the willpower that is in the hearts of our families who are committed to a promise.
Um Yusuf Abu Hmeid emphasized that our leadership, led by His Honor [PA] President Mahmoud Abbas who ordered to rebuild the house the moment the occupation demolished it, will continue to be a thorn in the side of the occupation. She added that she, her family, and her sons – like all of the prisoners' families – will not deviate from the path until achieving the Palestinian rights."
Um Nasser Abu Hmeid – Palestinian woman famous and admired in the PA for being the mother of 5 terrorist prisoners serving life sentences (4 of them serving multiple life sentences), and another whom the PA refers to as a "Martyr." Abu Hmeid is also called Khansa of Palestine, which refers to Al-Khansa from the earliest period of Islam who sent her four sons to battle and rejoiced when they all died as Martyrs. Abu Hmeid was honored by the PA in 2010 and 2015, and was chosen in 2011 to launch the PA's statehood campaign with the UN. Her terrorist sons: Islam Yusuf Abu Hmeid, murdered 1 on May 24, 2018, and is serving life in prison and an additional 8 months; Muhammad Abu Hmeid, serving 2 life sentences and 30 years for involvement in terror attacks; Nasser Abu Hmeid, serving 7 life sentences and 50 years for murdering 7 Israeli civilians and 12 attempted murders; Nasr Abu Hmeid, serving 5 life sentences for involvement in two terror attacks in which 4 were murdered, and arms dealing; Sharif Abu Hmeid, serving 4 life sentences for involvement in terror attacks in which 4 were murdered; Abd Al-Mun'im Muhammad Yusuf Naji Abu Hmeid, murdered 1 on Feb. 13, 1994, and was killed by Israel on May 31, 1994.