Military funeral held for "Martyr"; Israel accused of "deliberate systematic policy" of "killing and destruction"
"The masses of Qalqilya district accompanied the body of Martyr Omar Younes (i.e., terrorist, attempted to stab 1) on his final journey to his birthplace, the village of Sannirya, south of Qalqilya, in the late night hours two days ago [Sept. 20, 2019].
The funeral procession started out across from Darwish Nazzal government hospital in Qalqilya, where a military funeral was held for the Martyr with an official and popular presence, and the body was wrapped in the flag of Palestine…
Qalqilya District Governor Rafe' Rawajbeh emphasized during the funeral that the occupation is implementing a deliberate systematic policy against the Palestinian people and its members, thinking that by its killing and destruction it can bring the Palestinian people to its knees. We say to them: It does not matter how much you kill or destroy, it will only increase our people's determination to continue its struggle until it exiles the occupation from its land and establishes the Palestinian state whose capital is Jerusalem.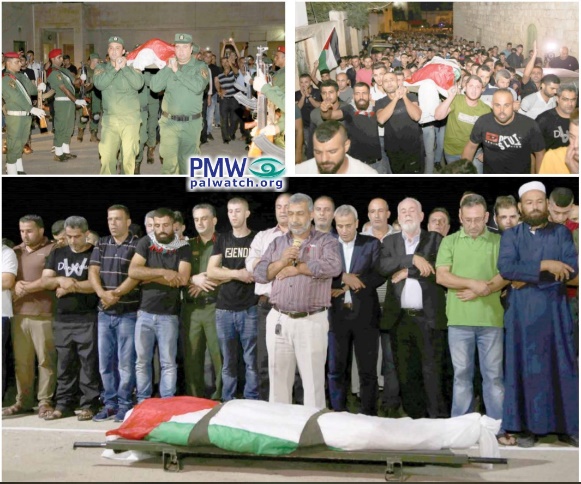 The funeral prayer was held in the courtyard of the Saniriya High School for Boys."
The pictures accompanying the article show terrorist Omar Younes being given a military funeral with his body wrapped in a Palestinian flag and carried by PA Security Force members in uniform.
Omar Younes – 20-year-old Palestinian terrorist who attempted to stab an Israeli police officer at Tapuach junction near Nablus on April 20, 2019; Younes was shot and killed by the officer during the attack.