UNICEF responds to PMW bulletin on hate ad with UNICEF logo
Itamar Marcus and Nan Jacques Zilberdik
|
UNICEF responds to PMW bulletin
on hate ad with UNICEF logo

UNICEF: "In light of the latest development, UNICEF will be carefully
reviewing any proposed future partnerships with PYALARA."

by Itamar Marcus and Nan Jacques Zilberdik
Last week PMW reported
that a Palestinian NGO, PYALARA, had published a hate advertisement with a picture of a giant ax destroying a Star of David. The bottom of the ad had the logos of UNICEF, PA TV and PYALARA (Palestinian Youth Association for Leadership and Rights Activation).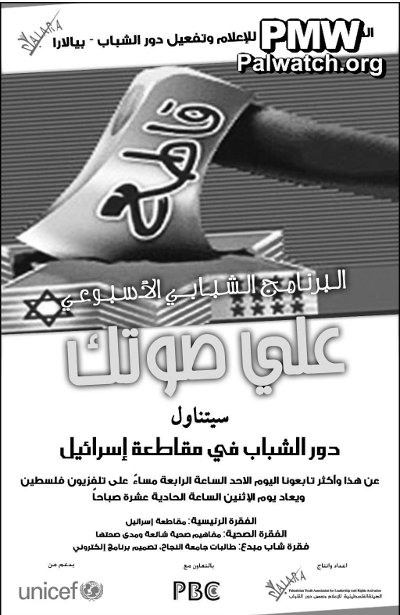 UNICEF has responded that the logo was used without its permission. It has further stated that although UNICEF has been funding PYALARA with $100,000 a year, the most recent agreement expired in January 2010. UNICEF adds, "In light of the latest development, UNICEF will be carefully reviewing any proposed future partnerships with PYALARA."
The following is the full UNICEF statement in response to the PMW bulletin:


"STATEMENT FROM CARYL M. STERN, PRESIDENT,
U.S. FUND FOR UNICEF
ON INCORRECT USE OF UNICEF LOGO BY NGO
NEW YORK, NY; MARCH 23, 2010
—UNICEF does not endorse the use of violent imagery and abhors the inappropriate use of its logo to suggest otherwise. The use of violence runs counter to UN values and principles.
UNICEF was not consulted by PYALARA about the use of its logo in a poster announcing a youth broadcast and it condemns the use of its logo to imply endorsement of political opinions. Neither the poster nor the television program it advertises reflect UNICEF's policies or its views. UNICEF's partnership agreement with PYALARA ended in January 2010.
As soon as this incorrect use of the logo came to its attention, UNICEF contacted PYALARA to demand an explanation and to seek rectification. UNICEF has also demanded clarification as to the actual process and context in which the logo was used.
UNICEF's policy is clear on the use of its logo. Standard agreements with partners require prior approval in writing for the use of the UNICEF brand. PYALARA did not follow this process and UNICEF approval was not sought or granted.
PYALARA has since presented its apologies to UNICEF and has given us assurances that it will conduct an enquiry to avoid similar incidents from occurring.
Prior to this, UNICEF had worked with PYALARA from 2000 to provide children and young people with a forum to voice their ideas and reach out to their peers. UNICEF's support was for media training, video documentation and peer-to-peer counseling, both in the West Bank and in the Gaza Strip.
Until this year, UNICEF provided approximately US$100,000 a year to PYALARA. In light of the latest development, UNICEF will be carefully reviewing any proposed future partnerships with PYALARA."