"Death to Israel" song on Hamas TV as terrorists' rockets strike Israel
Nan Jacques Zilberdik and Itamar Marcus
|
"Death to Israel" song on Hamas TV as terrorists' rockets strike Israel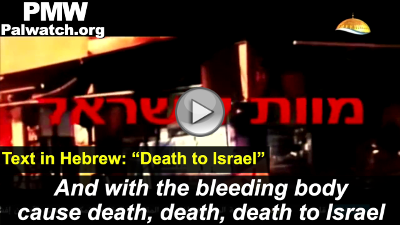 Since the early morning, Islamic Jihad terrorists have been firing rockets from the Gaza Strip at Israeli civilian targets following Israel's assassination of senior commander of the Islamic Jihad terror organization in Gaza, Baha Abu Al-Ata. The leader of the Iran-backed terror group was responsible for most of the organization's terror activity and planned numerous rocket, sniper, drone, and other attacks against Israel.
To show its support for terror against Israel, Hamas' TV station Al-Aqsa has rebroadcast this song several times today that repeatedly calls for "death to Israel." The words "DEATH TO ISRAEL" flash on the screen in Hebrew while footage from previous terror attacks and funerals of Israeli terror victims are shown: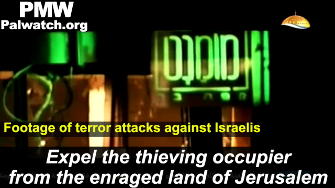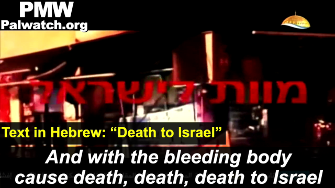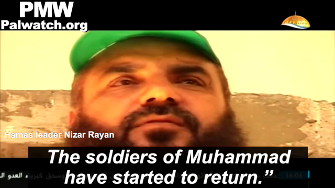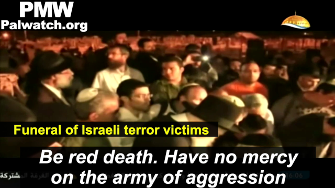 Song: "Expel the thieving occupier from the enraged land of Jerusalem,

Rid your house of that one, that Zionist in his humiliation,

Write 'death, death, death to Israel' with flowing blood,

And with the bleeding body cause death, death, death to Israel"

Text on screen in Hebrew: "Death to Israel"

Hamas leader Nizar Rayan: "[Remember] Khaibar, Khaibar, O Jews. The soldiers of Muhammad have started to return."

Visuals: Funeral of Israeli terror victims

Song: "Be red death. Have no mercy on the army of aggression that wears the clothes of the soldier and the settler."

[Al-Aqsa TV (Hamas), Nov. 12, 2018, March 25 and Nov. 12, 2019]
Palestinian Media Watch exposed this Hamas TV song when the Al-Aqsa TV station broadcast it right before Israel destroyed its TV station during a Hamas missile attack last year.

Khaibar is the name of the last Jewish village defeated by Muhammad's army in 628. Many Jews were murdered in the battle, which marked the end of Jewish presence in Arabia. There are Muslims who see this event as a precursor to future wars against Jews. At extremist gatherings and rallies, this slogan is often chanted as a threat to Jews implying that they should expect to be defeated and murdered again by Muslims.