Abbas, Fatah and PA officials congratulate terrorist serving life sentence on his engagement
Headline: "Osama Al-Ashqar and Manar Khalawi – an engagement that defies the prison and jailors"
"The engagement of the young woman and the prisoner serving a life sentence (sic., 8 life sentences) became a national event in which there was an atmosphere of solidarity with the prisoners and a flood of feelings.
A large delegation of dignitaries from the Tulkarem district came to the village of Wadi Rahal, south of Bethlehem, for the engagement of the young woman Manar Khalawi to prisoner Osama Al-Ashqar (i.e., terrorist, responsible for murder of 8) who is sentenced to 8 life sentences.
When he stood to ask for young Khalawi's hand [in marriage] for his son, the prisoner's father said that the occupation will not continue and has not succeeded in taking control of his feelings, and emphasized as tears rolled down from his eyes: 'I ask for the hand of your daughter Manar for my son Osama who will be released from prison despite the enemy.'
[The bride's father] Abu Muhammad Khalawi greeted the delegation of dignitaries that included official and popular figures, including Governor of the Tulkarem District Issam Abu Bakr and Governor of the Ramallah and El-Bireh District Laila Ghannam. Present at the reception for the delegation of dignitaries were Governor of Bethlehem Kamel Hamid, Secretary of the [Bethlehem] Fatah Branch Muhammad Al-Masry, and others…
The governor of Bethlehem blessed the engaged and emphasized that this is our people that creates miracles, continues to give, and teaches the friends and enemies a lesson.
Hamid conveyed the blessings of [PA] President Mahmoud Abbas to the engaged and blessed Manar by saying: 'We bless Manar and all the fighting women of Palestine, and a new legend is being created under the leadership of Osama and Manar.'
[Secretary of the Bethlehem] Fatah Branch] Muhammad Al-Masry said: 'We stand before an extraordinary sight. The Khalawi family is giving a pearl to our brothers the Al-Ashqar family. This is a national standpoint for the entire prisoners' movement and a message to our people in Gaza and everywhere.'
Dr. Laila Ghannam blessed the engaged, praised the Khalawi family's standpoint, and emphasized that our people is determined to continue its giving despite the obstacles."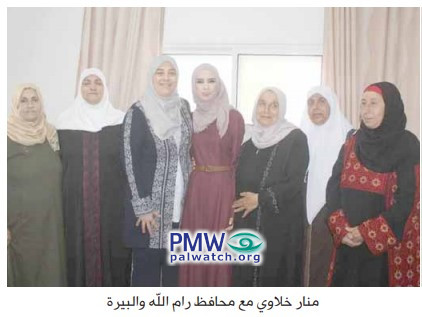 The article is accompanied by a picture of the bride Manar Khalawi (center) with Governor of the Ramallah and El-Bireh District Laila Ghannam to her left.
Osama Al-Ashqar - Palestinian terrorist and member of the Tanzim (Fatah terror faction) who sent terrorists to carry out the attack in Hermesh on Oct. 29, 2002, in which 3 Israelis were murdered, and the attack in Kibbutz Metzer on Nov. 11, 2002, in which 5 Israelis were murdered. He was also convicted of being responsible for dozens of shooting attacks in the Tulkarem area. Al-Ashqar is serving 8 life sentences and an additional 50 years.