Fatah official honors "illustrious" mother of 6 terrorists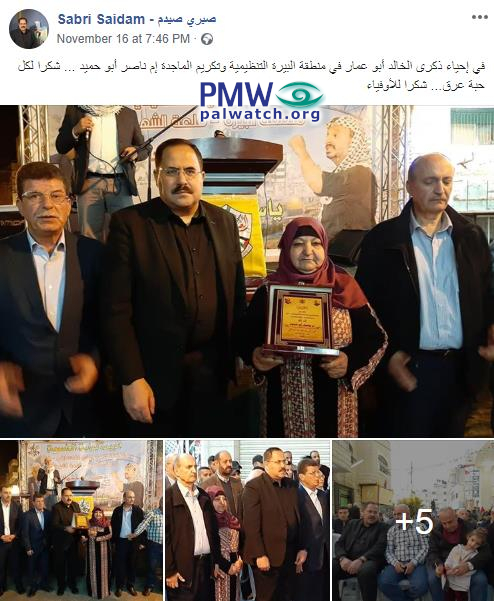 Images and text posted on the Facebook page of Fatah Central Committee Deputy Secretary Sabri Saidam
Posted text: "During the commemoration of the anniversary of [the death of former PLO Chairman and PA President] Yasser Arafat in the El-Bireh organizational area and the honoring of illustrious Um Nasser Abu Hmeid (i.e., mother of terrorists responsible for at least 10 murders; see note below). Thank you for every drop of sweat, thank you to the loyal ones."
The image shows Um Nasser Abu Hmeid on stage during the event holding an honorary plaque. To the left of her is Fatah Central Committee Deputy Secretary and former minister of education Sabri Saidam, to the right of her is PLO Executive Committee member and Secretary-General of the Palestinian Liberation Front Wasel Abu Yusuf, and to the left of Saidam is Chairman of the PA-funded Prisoners' Club Qadura Fares.
Sabri Saidam also serves as Fatah Revolutionary Council Deputy Secretary.
Yasser Arafat – Founder of Fatah and former chairman of the PLO and PA. During the 1960s, 70s and 80s Arafat was behind numerous terror attacks against Israelis. Although he received the Nobel Peace Prize in 1994 together with then Israeli Prime Minister Yitzhak Rabin and then Israeli Minister of Foreign Affairs Shimon Peres "for their efforts to create peace in the Middle East" after signing the Oslo Accords peace agreement, Arafat launched a 5-year terror campaign - the second Intifada (2000-2005) – in which more than 1,000 Israelis were murdered. Arafat died of an illness in 2004.
Um Nasser Abu Hmeid (Um Yusuf Abu Hmeid/Latifa Abu Hmeid) – Palestinian woman famous and admired in the PA for being the mother of 5 terrorist prisoners serving life sentences (4 of them serving multiple life sentences), and another whom the PA refers to as a "Martyr." Abu Hmeid is also called Khansa of Palestine, which refers to Al-Khansa from the earliest period of Islam who sent her four sons to battle and rejoiced when they all died as Martyrs. Abu Hmeid was honored by the PA in 2010 and 2015, and was chosen in 2011 to launch the PA's statehood campaign with the UN. Her terrorist sons: Islam Yusuf Abu Hmeid, murdered 1 on May 24, 2018, and is serving life in prison and an additional 8 months; Muhammad Abu Hmeid, serving 2 life sentences and 30 years for involvement in terror attacks; Nasser Abu Hmeid, serving 7 life sentences and 50 years for murdering 7 Israeli civilians and 12 attempted murders; Nasr Abu Hmeid, serving 5 life sentences for involvement in two terror attacks in which 4 were murdered, and arms dealing; Sharif Abu Hmeid, serving 4 life sentences for involvement in terror attacks in which 4 were murdered; Abd Al-Mun'im Muhammad Yusuf Naji Abu Hmeid, murdered 1 on Feb. 13, 1994, and was killed by Israel on May 31, 1994.