Fatah Facebook page glorifies Dalal Mughrabi, who led most deadly terror attack in Israel's history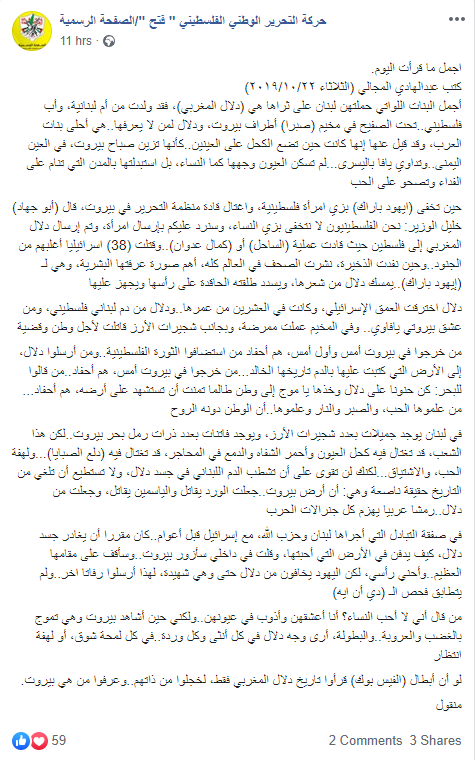 Text posted on the official Fatah Facebook page
Posted text:
"The most beautiful thing I read today
Written by Abd Al-Hadi Al-Majali [in the Jordanian paper Al-Rai] (Tuesday, Oct. 22, 2019) [parentheses in source]
The most beautiful girl on Lebanon's land is Dalal Mughrabi (i.e., terrorist who led murder of 37, 12 of them children). She was born to a Lebanese mother and a Palestinian father under the tin sheets of the Sabra refugee camp on the outskirts of Beirut. Dalal, for those who do not know, is the sweetest of Arab girls. It was said about her that when she would put eyeshadow on her eyes it was as if she was beautifying the Beirut morning with her right eye and healing Jaffa with her left eye…
When [then Israeli elite unit commando] Ehud Barak hid behind Palestinian women's clothing and assassinated PLO commanders in Beirut, 'Abu Jihad' Khalil Al-Wazir (i.e., terrorist, responsible for the murder of 125) said: 'We Palestinians will not hide behind women's clothing. We will respond to you by sending a woman.' Then they sent Dalal Mughrabi to Palestine, where she led the 'coastal operation' or 'Kamal Adwan [operation]' (Kamal Adwan was a terrorist leader killed in the aforementioned operation in which Barak dressed as a woman –Ed.) and killed 38 Israelis, most of them soldiers (sic., the victims were all Israeli civilians, including 12 children). When the ammunition ran out, the newspapers throughout the world published the most important picture known to humanity – Ehud Barak holding Dalal by her hair, aiming his hostile weapon at her head, and eliminating her (sic., the officer in the picture was not pointing a weapon at the body and it is unclear whether it was Ehud Barak; see attached picture –Ed.).
Dalal infiltrated the Israeli depth while still in her 20s… Those who came out [into the streets] of Beirut yesterday and two days ago [Oct. 21-22, 2019] are the grandchildren of those who hosted the Palestinian revolution, and those who sent Dalal to the land on which she wrote the eternal history in blood. Those who came out yesterday [to the streets of] Beirut are the grandchildren of those who said to the sea: 'Be merciful to Dalal and take her, waves, to the homeland where she wished to die as a Martyr for some time.' They are the grandchildren of those who taught her love, patience, and the fire [of fighting], and that without a homeland there is no soul.
In Lebanon there are beauties [as numerous] as the number of cedar trees, and there are captivating women [as numerous] as the sand on the Beirut seashore. However, among this people, sometimes the most beautiful of its young are killed… But the Lebanese blood cannot be erased from Dalal's body, and the pure truth cannot be omitted from history – the land of Lebanon made roses and jasmine fight and turned Dalal into an Arab eyelash who subdues all of the war's generals.
In the [prisoner] exchange that Lebanon and Hezbollah carried out with Israel years ago (July 16, 2008, an exchange for the bodies of Israeli soldiers Eldad Regev and Ehud Goldwasser –Ed.), it was decided that Dalal's body would leave to be buried in the land that she loved. [Dalal] said in her heart: 'I will visit Beirut, stand in its great presence, and rest my head.' However, the Jews are afraid of Dalal because she is a Martyr, and therefore sent a different body, the results of whose DNA test did not match [Dalal]."
Dalal Mughrabi – female Palestinian terrorist who led the most lethal terror attack in Israel's history, known as the Coastal Road massacre, in 1978, when she and other Fatah terrorists hijacked a bus on Israel's Coastal Highway, murdering 37 civilians, 12 of them children, and wounding over 70.
Abu Jihad (Khalil Al-Wazir) - was a founder of Fatah and deputy to Yasser Arafat. He headed the PLO terror organization's military wing and also planned many deadly Fatah terror attacks in the 1960's - 1980's. These attacks, in which a total of 125 Israelis were murdered, included the most lethal in Israeli history - the hijacking of a bus and murder of 37 civilians, 12 of them children.
Kamal Adwan and Kamal Nasser were both senior members of Black September, a secret branch of Fatah, who were killed by Israeli forces in April 1973. Kamal Nasser was also the spokesperson for the PLO and Fatah. Kamal Adwan was responsible for Fatah terrorist operations in Israel.
The picture referred to: