PLO prisoners' commission ties planned "Day of Rage" over US settlements proclamation to death of prisoner who had cancer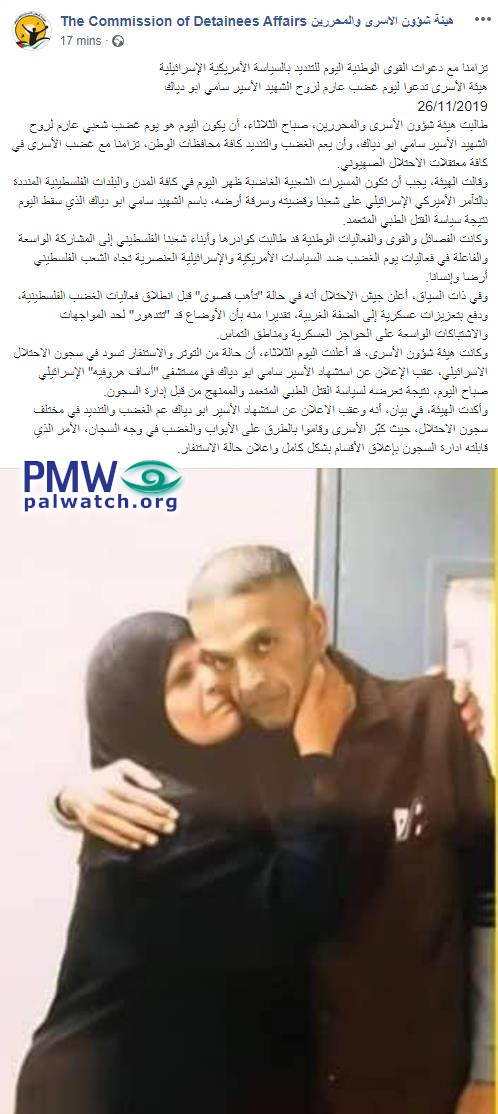 Image and text posted on the Facebook page of the PLO Commission of Prisoners' Affairs
Posted text: "The [PLO] Commission of Prisoners' Affairs demanded on Tuesday morning [Nov. 26, 2019] that today be a day of popular rage and strength for the soul of Martyr prisoner Sami Abu Diak (i.e., he was serving 3 life sentences; see note below). It demanded that the rage and condemnations prevail in all districts of the homeland, together with the prisoners' rage in all of the Zionist occupation's detention camps.
The commission said that the popular processions of rage that will take place this afternoon in all of the Palestinian cities and towns in condemnation of the American-Israeli conspiracy against our people and its cause and in condemnation of the theft of its land (refers to protests against US Secretary of State Mike Pompeo's statement that Israeli settlements in the West Bank are not illegal; see note below –Ed.) need to be on behalf of Martyr Sami Abu Diak, who died today as a result of the policy of deliberate murder through medical means (Diak survived cancer as long as he did due to the medical care he received while in prison –Ed.)."
Sami Ahed Abu Diak - Palestinian terrorist who shot and murdered Israeli civilian Ilya Krivitz in Silat Al-Dhar northwest of Nablus on June 20, 2001, and also murdered 3 Palestinians in 2001 who he suspected of aiding Israel. Abu Diak was arrested in 2002, and was serving 3 life sentences and an additional 30 years. Abu Diak died in prison of cancer on Nov. 26, 2019; Israel had provided cancer treatment for him during his imprisonment.
US Secretary of State Mike Pompeo announced the US administration's new position on Israeli towns in the West Bank on Nov. 18, 2019, stating: "After carefully studying all sides of the legal debate... the establishment of Israeli civilian settlements in the West Bank is not, per se, inconsistent with international law."