Glorification of terrorists at students council in Al-Quds University
Official PA TV News, on student council elections at Al-Quds University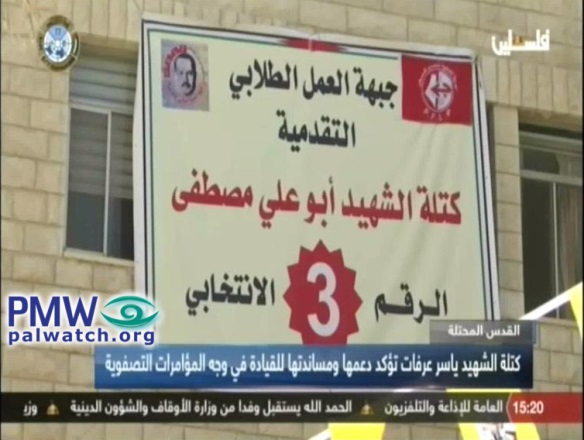 Visual:
A poster of a student group named after terrorist leader Abu Ali Mustafa, former secretary-general of the PFLP terror organization. In the upper right corner of the poster is the PFLP logo, which includes the PA map of "Palestine" that presents all of Israel as "Palestine" together with the PA areas.
Text on poster:
"The Student Labor Progressive Front
Martyr Abu Ali Mustafa cell
Election number: 3"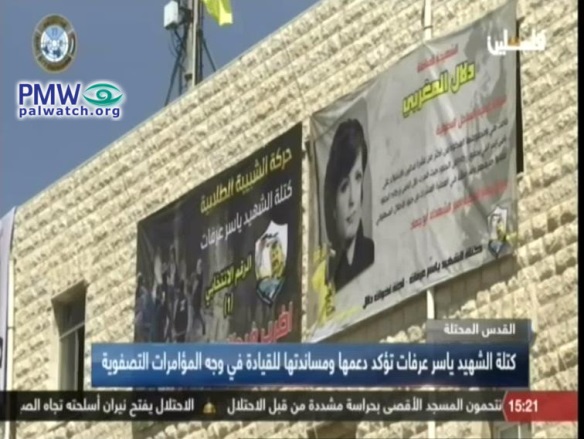 A poster with a picture of terrorist Dalal Mughrabi who led the murder of 37, 12 of them children.
Abu Ali Mustafa - Secretary-General of the terror organization Popular Front for the Liberation of Palestine (PFLP). The PFLP, which rejected the Oslo Accords (1993), has planned and carried out numerous terror attacks against Israeli civilians since its founding in 1967 and throughout the Palestinian terror campaign between 2000-2005 (the Intifada).
Dalal Mughrabi – female Palestinian terrorist who led the most lethal terror attack in Israel's history, known as the Coastal Road massacre, in 1978, when she and other Fatah terrorists hijacked a bus on Israel's Coastal Highway, murdering 37 civilians, 12 of them children, and wounding over 70.