Exhibition at girls' high school glorifies terrorist murderers who killed hundreds
Images posted on the Facebook page of the Bethlehem High School for Girls
The images show an event at the Bethlehem High School for Girls marking the anniversary of former PLO and PA Chairman Yasser Arafat's death.
An exhibition was held at the school during the event by the Fatah Shabiba High School Movement. Several pictures are displayed prominently while in the background there are smaller pictures of Arafat, Palestinian flags, and a yellow Fatah flag with the Fatah logo that includes a grenade, crossed rifles, and the PA map of "Palestine" that presents all of Israel as "Palestine" together with the PA areas.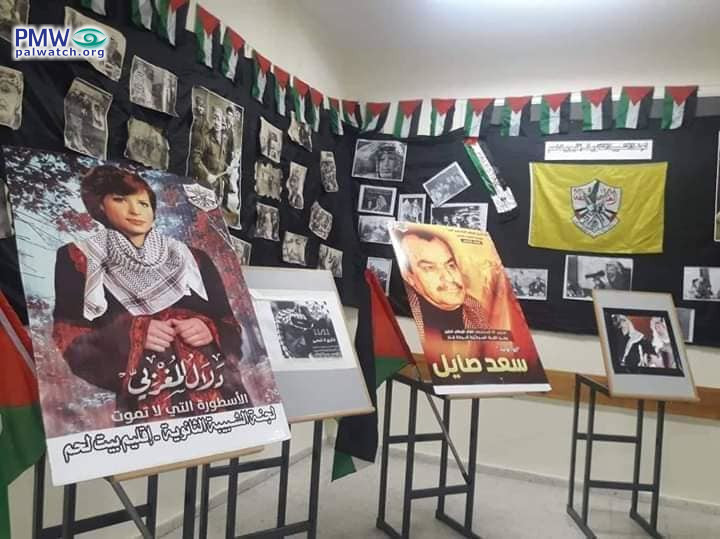 On the left is a photoshopped image of terrorist Dalal Mughrabi who led the murder of 37, 12 of them children, when terrorist hijacked a bus in what is known as the Coastal Road massacre in 1978.
Text on image: "Dalal Mughrabi – the legend that will not die, [Fatah] Shabiba High School Committee – Bethlehem branch"
To the right of the image of Mughrabi is a picture of Arafat, and to the right of that is a picture of Saad Sayel, who as Fatah commander who led the PLO terrorist forces based in Lebanon during the early 1980s.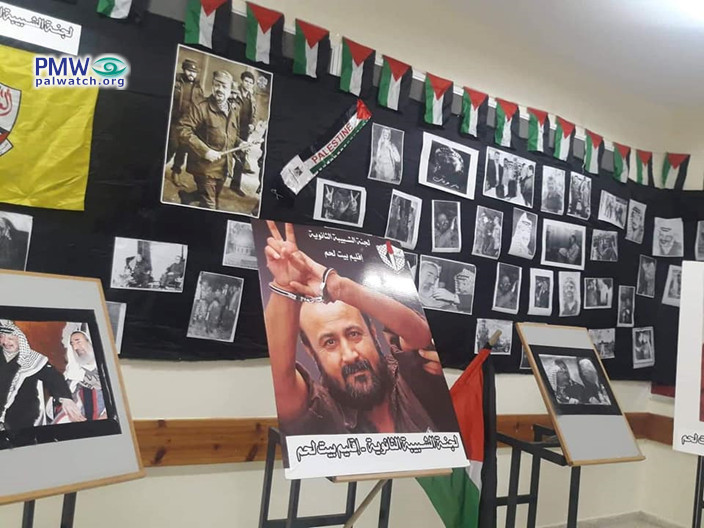 Another photo shows a picture of imprisoned terrorist Marwan Barghouti who is responsible for the murder of 5, raising his cuffed hands to form the V-sign for "victory."
To the left of the photo of Barghouti is a photo of Arafat and founder of the terror organization Hamas, Ahmed Yassin.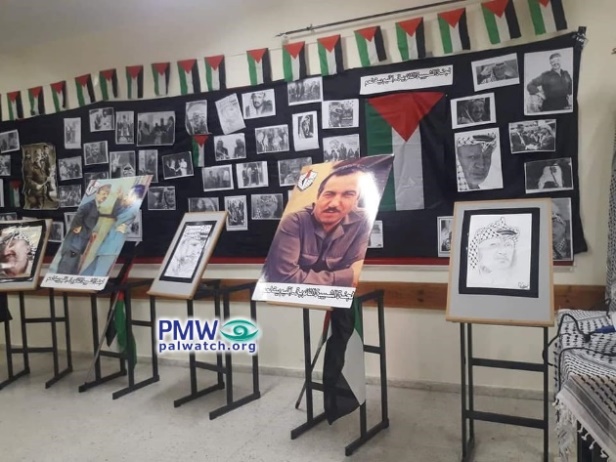 Two photos show arch-terrorist Khalil Al-Wazir - Abu Jihad, who was responsible for the murder of at least 125. In one of the photos Abu Jihad stands speaking with Arafat.

Yasser Arafat – Founder of Fatah and former chairman of the PLO and PA. During the 1960s, 70s and 80s Arafat was behind numerous terror attacks against Israelis. Although he received the Nobel Peace Prize in 1994 together with then Israeli Prime Minister Yitzhak Rabin and then Israeli Minister of Foreign Affairs Shimon Peres "for their efforts to create peace in the Middle East" after signing the Oslo Accords peace agreement, Arafat launched a 5-year terror campaign - the second Intifada (2000-2005) – in which more than 1,000 Israelis were murdered. Arafat died of an illness in 2004.

Dalal Mughrabi – female Palestinian terrorist who led the most lethal terror attack in Israel's history, known as the Coastal Road massacre, in 1978, when she and other Fatah terrorists hijacked a bus on Israel's Coastal Highway, murdering 37 civilians, 12 of them children, and wounding over 70.

Saad Sayel - Senior Fatah commander. He led the PLO forces that were based in Lebanon during the early 1980s.

Abu Jihad (Khalil Al-Wazir) - was a founder of Fatah and deputy to Yasser Arafat. He headed the PLO terror organization's military wing and also planned many deadly Fatah terror attacks in the 1960's - 1980's. These attacks, in which a total of 125 Israelis were murdered, included the most lethal in Israeli history - the hijacking of a bus and murder of 37 civilians, 12 of them children.

Marwan Barghouti – Palestinian terrorist and member of the Palestinian Authority parliament who is serving 5 life sentences for orchestrating three shooting attacks in which 5 people were murdered: one attack on the Jerusalem-Maale Adumim road (June 12, 2001) in which Greek Orthodox monk Tsibouktsakis Germanus was murdered by terrorists Ismail Radaida and Yasser Ah'Rabai, another attack at a gas station in Givat Zeev near Jerusalem (Jan. 15, 2002) in which Yoela Hen was murdered by terrorists led by Mohammed Matla, and one shooting and stabbing attack at the Seafood Market restaurant in Tel Aviv (March 5, 2002) in which Eli Dahan, Yosef Habi, and Police Officer Sergeant-Major Salim Barakat, were murdered by terrorist Ibrahim Hasouna. When arrested by Israel in 2002, Barghouti headed the Tanzim (Fatah terror faction). After he was convicted and imprisoned, he was re-elected as a member of the Palestinian Authority parliament. On Dec. 4, 2016, he was elected to Fatah's Central Committee.


» View analysis citing this item