PA daily cartoon against US hospital in Gaza depicts bloodstained Trump, accuses hospital of "aborting" PA-Hamas unity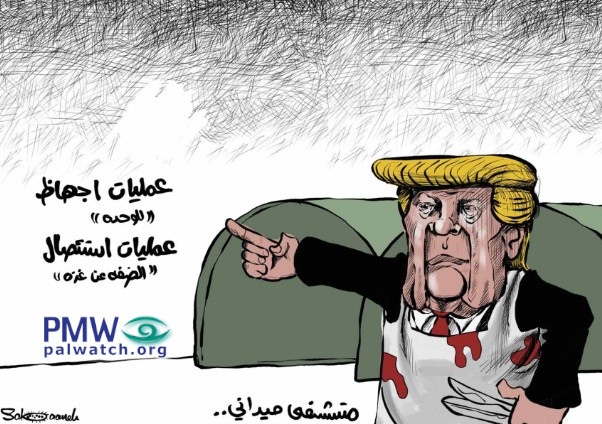 Cartoon published in the official PA daily
Text on cartoon:
"Field hospital
Abortions (of the unity)
Operations to remove (the West Bank from Gaza)"
Note: All parentheses appeared in the source
The cartoon shows US President Donald Trump wearing a bloody apron and pointing at the text as he stands in front of large tents meant to be a field hospital.
The cartoon is referring to a field hospital being erected by a private American organization in northern Gaza. The PA has claimed that this hospital will actually be a military intelligence base whose goal is to break the connection between the Gaza Strip and the West Bank, as well as a place to carry out experiments on sick Palestinians. The PA has also accused Hamas of collaborating with the US and breaking the "unity" with the PA\the West Bank by allowing the hospital's construction, which will enable Palestinian Gazan patients to be treated in the Gaza Strip itself and not be referred to PA hospitals.