Painting by student broadcast on PA TV that presents map of "Palestine" that erases Israel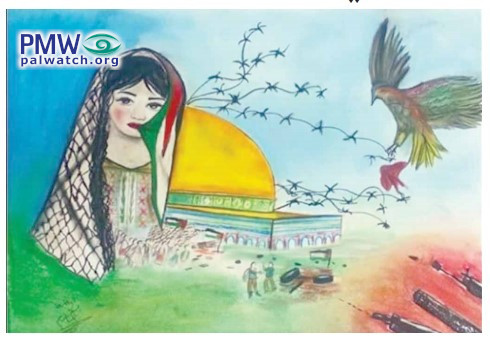 Headline: "A female student at Al-Quds Open University relies on her talent to make a living"
"Ayyam Issam Ismail Sarsour, 20, a fourth-year social work student at the Ramallah and El-Bireh branch of Al-Quds Open University, has a talent that has been proven on many occasions, to the point that she now constitutes a source of reference for many institutions and people who are interested in painting pictures."
A picture of one of her paintings accompanies the article. The painting shows a Palestinian woman wearing a keffiyeh (i.e., Arab headdress), which to the right of her face is in the colors of the Palestinian flag and the shape of the PA map of "Palestine" that presents all of Israel as "Palestine" together with the PA areas. Behind her is the Dome of the Rock, above which is barbed wire and a large bird pulling the wire with its talons away from what appears to be the PA map of "Palestine" in red with blood coming out of it due to the wire. In the lower right corner are the barrels of weapons and standing between them and the Dome of the Rock are two men with a Palestinian flag next to them.