Fatah posts calls residents of southern Israeli city "settlers"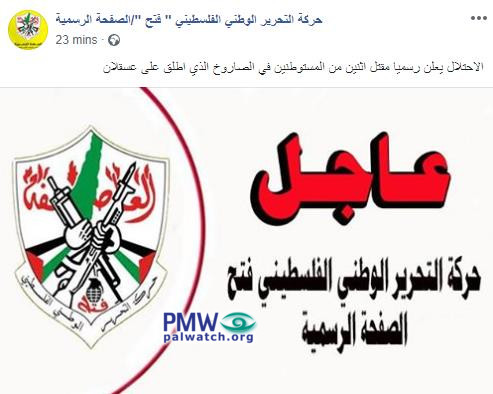 Text and image posted on the official Fatah Facebook page

Posted text: "The occupation officially announces that 2 settlers were killed by the missile that was fired at Ashkelon"
Text on right side of image:
"Urgent –
The Palestinian National Liberation Movement – Fatah, the official page"
On the left side of the image is the Fatah logo that includes a grenade, crossed rifles, and the PA map of "Palestine" that presents all of Israel as "Palestine" together with the PA areas.
May 2019 Gaza rocket attacks – The Hamas and Islamic Jihad terrorist organizations in Gaza launched a rocket barrage on Israeli civilian population centers on May 4, 2019, firing more than 700 rockets and murdering 4 Israelis in the course of two days. Israel responded by striking terror targets; 23 Gazans, many of them terrorists, were killed during the exchange of fire. On May 6 a ceasefire agreement was reached between Israel and Hamas.