Fatah promotes solidarity campaign with striking imprisoned Palestinian terrorists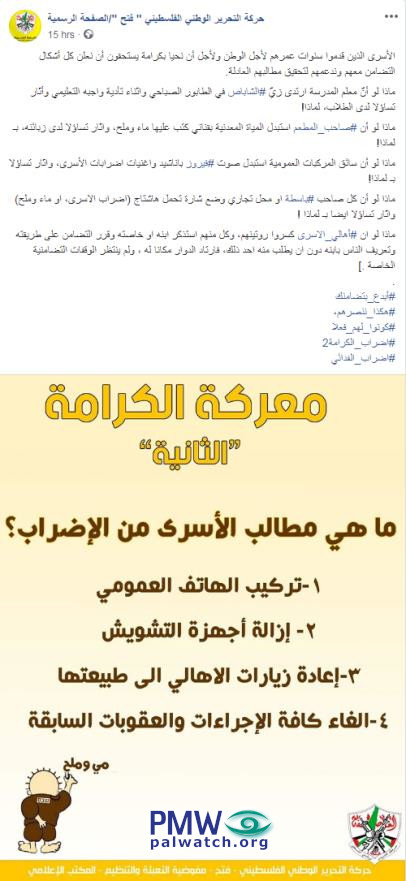 Text and image posted on the official Fatah Facebook page
Posted text: "Prisoners who have given years of their lives for the homeland and so that we will live with dignity deserve that we declare full solidarity with them and support them in realizing their just demands.
What if the teacher in school would wear an Israeli Prison Service uniform at the morning assembly and while fulfilling his educational obligation, and would stimulate questioning among the students – why?
What if the restaurant owner would replace the mineral water with bottles on which is written 'water and salt' and stimulate questioning among his customers – why?
What if the public transportation driver would replace the voice of [Lebanese singer] Fairuz [on the radio] with recitations and songs of the prisoners' strike and stimulate questioning – why?
What if every owner of a stand or business would hang a ribbon that bears the hashtag 'the prisoners' strike' or 'water and salt' and also stimulate questioning – why?
What if the prisoners' families would break their routine and every one of them who wants to speak about their son or relative would decide to express solidarity in his way, and to present his son to the people without anyone requesting this of him and would visit the square as [if it were] his own place and not wait for a special solidarity vigil?
#Find_your_solidarity
#In_this_way_we_will_overcome_them
#Be_for_them_in_practice
#Honor_strike_2
#Self-sacrificing_fighter(Fida'i)_strike"

Text on image:
"The 'second' Al-Karameh battle (see note below –Ed.)
What are the prisoners' demands from the strike?
1. The installation of public telephones
2. The removal of the jamming devices
3. The restoration of family visits
4. The cancellation of all of the previous procedures and punishments
The Palestinian National Liberation Movement – Fatah
Mobilization and Organization Commission – Information Office"
The lower left corner of the image shows the well-known Palestinian cartoon character Handala who symbolizes the Palestinian refugee issue in an Israeli Prison Service uniform writing the words "water and salt," and in the lower right corner is the Fatah logo that includes a grenade, crossed rifles, and the PA map of "Palestine" that presents all of Israel as "Palestine" together with the PA areas.
The Karameh battle, or Al-Karameh - On March 21, 1968, Israeli army forces attacked the town of Karameh in Jordan, where Fatah terrorists had been launching attacks on Israel. Although Israel prevailed militarily, Arafat used the event for propaganda purposes, declaring the battle a great victory that erased the disgrace of the 1967 Six Day War defeat.