Fatah post for 55th anniversary of terror attack praises "anniversary of the outbreak of the modern Palestinian revolution"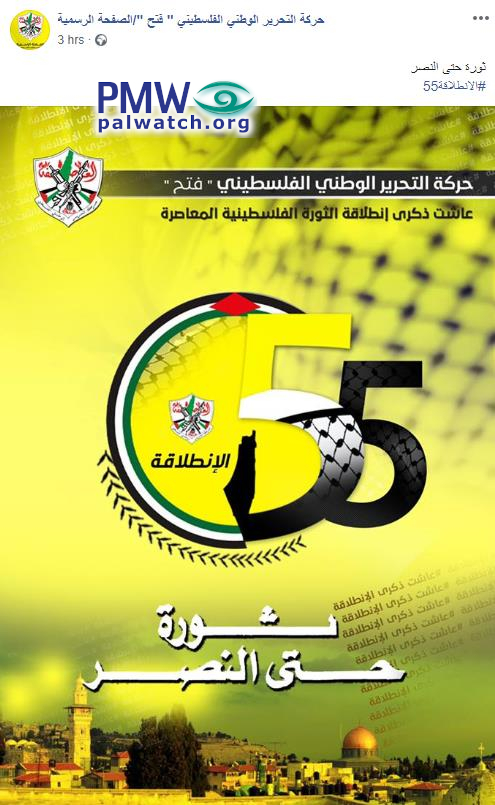 Image and text posted on the official Fatah Facebook page
Posted text: "Revolution until victory
#55th[_anniversary]_of_the_Launch (Intilaqa)"
The image shows a logo for the 55th anniversary of "the Launch" (Intilaqa) of Fatah marked by its first terror attack attempt. The logo includes the number "55" with the PA map of "Palestine" that presents all of Israel as "Palestine" together with the PA areas to the lower left of it, inside a circle surrounded by the Palestinian flag. Inside the circle is the Fatah logo that includes a grenade, crossed rifles, and the PA map of "Palestine," and below it the word: "The Intilaqa." On part of the circle and the "55" is a keffiyeh (Arab headdress) pattern.
In the upper left corner is the Fatah logo, and next to it the text: "The Palestinian National Liberation Movement – Fatah
Long live the anniversary of the outbreak of the modern Palestinian revolution"
At the bottom of the image is a picture of the Old City of Jerusalem including the Dome of the Rock.
Text at bottom of image: "Revolution until victory"
In the upper right corner of the image's background is a keffiyeh pattern.
Intilaqa - "the Launch" refers to the beginning of Fatah on Jan. 1, 1965, when it carried out its first terror attack against Israel, attempting to blow up Israel's National Water Carrier.