Fatah: 'The right of return is a red line'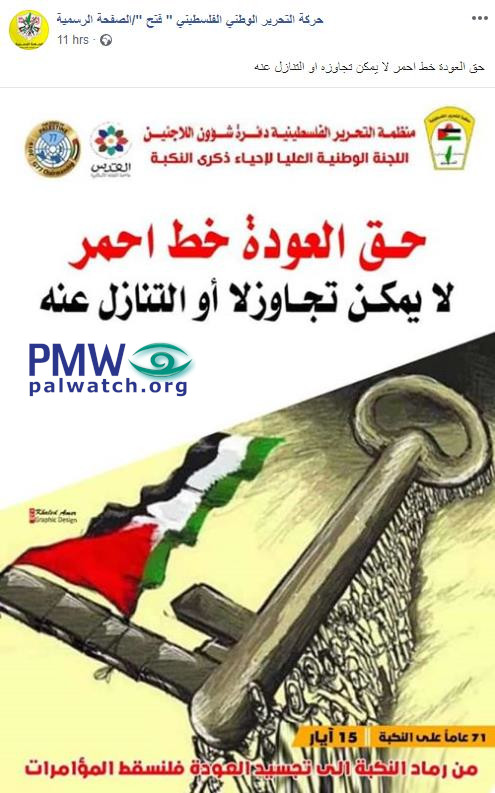 Text and image posted on the official Fatah Facebook page
Posted text: "The right of return is a red line – it cannot be ignored or renounced"
The image shows an enormous key, symbolizing the Palestinian "right of return," being carried by masses of people and with a Palestinian flag flying from it.
Text on image:
"The PLO – The Refugee Department
The Supreme National Committee to Celebrate Nakba Day (i.e., the Nakba is "the catastrophe," the Palestinian term for the establishment of the State of Israel; see note below)
The right of return is a red line – it cannot be ignored or renounced
The 71st anniversary of the Nakba, May 15 [2019]
From the dust of the Nakba to the realization of the return, let us thwart the plots"
Nakba Day - Palestinians commemorate Nakba Day on May 15, the day after the establishment of Israel. On May 15, 1948, combined forces from Egypt, Jordan, Syria and Iraq joined local Arab forces in an attempt to eradicate the newly established State of Israel. The Nakba (Arabic = catastrophe) refers to the establishment of Israel, and the subsequent defeat in the war, including the killing and displacement of Arab civilians that occurred during the war.