Terrorist murderers glorified at Fatah rally in Bethlehem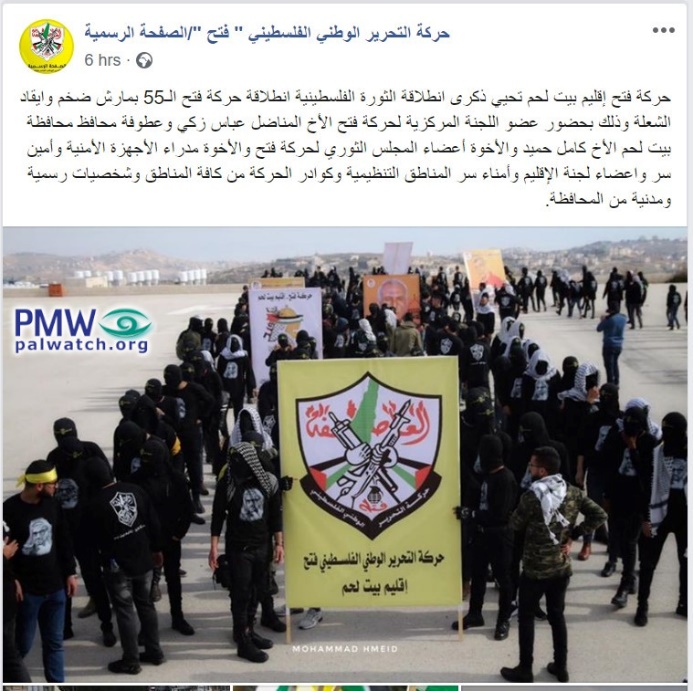 Text and pictures posted on the official Fatah Facebook page
Posted text: "The Fatah Movement Bethlehem Branch marks the anniversary of the outbreak of the Palestinian revolution, Fatah's Launch (Intilaqa), with a precession and torch lighting, and this is in the presence of Fatah Central Committee member fighter brother Abbas Zaki, and His Honor the Governor of Bethlehem brother Kamel Hamid, the brothers and members of the Fatah Revolutionary Committee, the brother directors of the [PA] Security Forces, the secretary and members of the branch committee, the regional and organizational secretaries, members of the movement from all of the regions, and dignitaries from the region."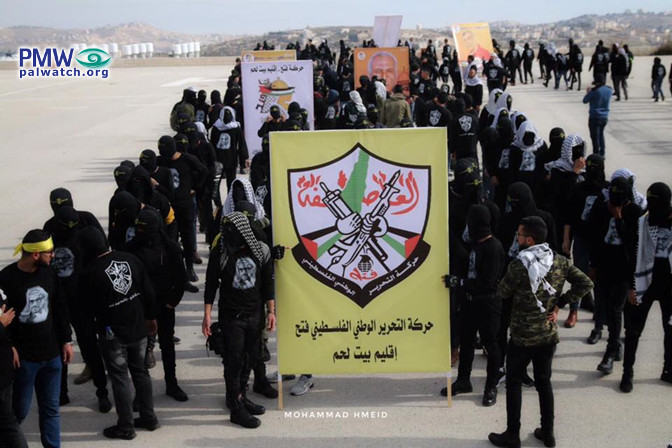 The picture shows men holding a large sign with the Fatah logo that includes a grenade, crossed rifles, and the PA map of "Palestine" that presents all of Israel as "Palestine" together with the PA areas, and behind them a procession of men. The Fatah logo can be seen on some of their shirts.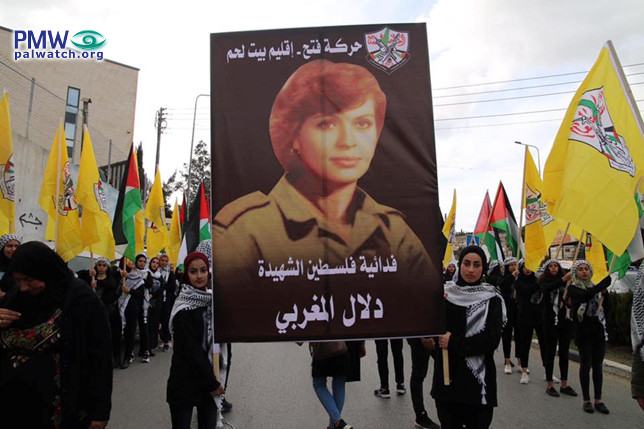 The picture shows young women carrying a sign with a picture of Dalal Mughrabi, a terrorist who led the murder of 37, 12 of them children.
Text on sign: "Fatah Movement – Bethlehem Branch – self-sacrificing fighter (Fida'iya) of Palestine Martyr Dalal Mughrabi"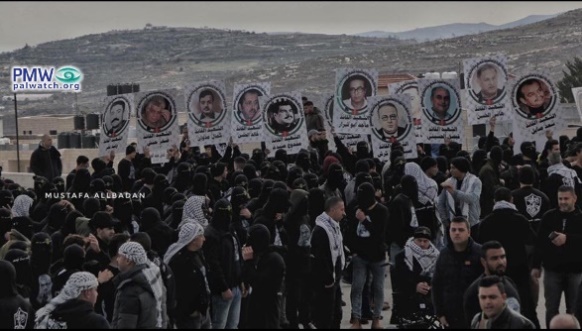 The people in the posters are (from left to right): (Unidentified), Fatah co-founder Sakher Habash, terrorist Kamal Adwan – Fatah terror leader and senior Black September member, Fatah co-founder Khaled Al-Hassan, former Deputy Commander of Operations for Fatah's Al-Asifa military unit Mamdouh Saidam "Abu Sabri," Fatah and PLO terror leader Majed Abu Sharar, Fatah co-founder Subhi Abu Karsh, former senior Fatah and PLO terror leader Faisal Al-Husseini, Fatah and PLO terror leader Hani Al-Hassan, and Fatah and PLO terror leader Saad Sayel.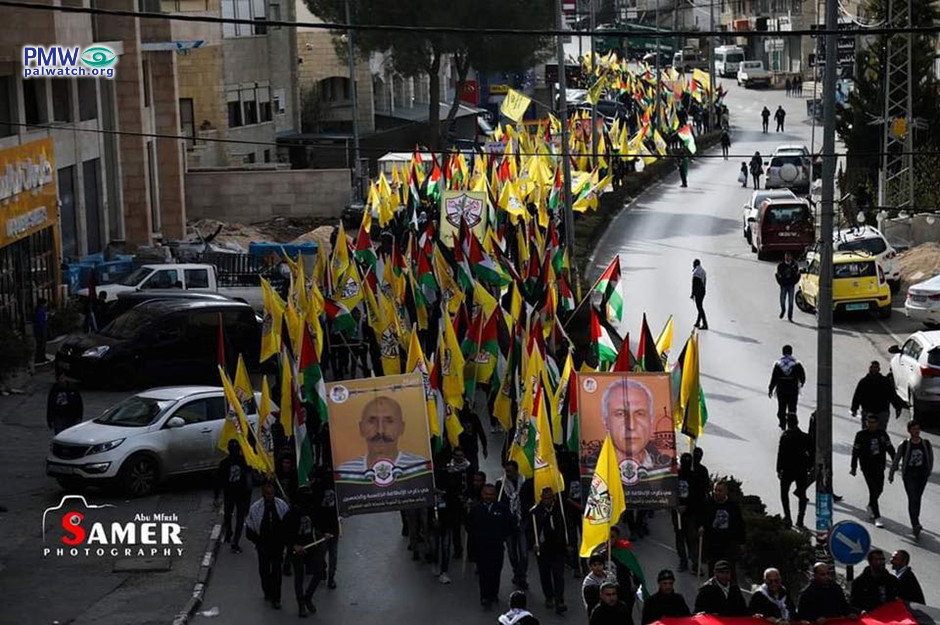 The picture shows a sign (right) held by participants with a picture of terrorist Karim Younes, who together with his cousin kidnapped and murdered an Israeli soldier.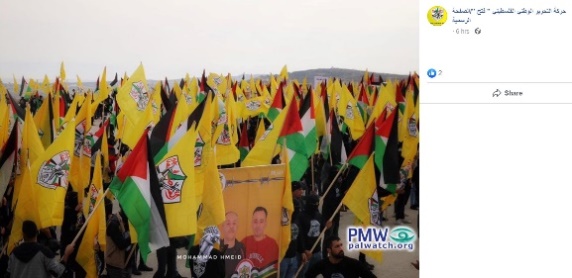 The picture shows men holding a Palestinian flag and Fatah flags with the Fatah logo that includes a grenade, crossed rifles, and the PA map of "Palestine" that presents all of Israel as "Palestine" together with the PA areas.

Dalal Mughrabi – female Palestinian terrorist who led the most lethal terror attack in Israel's history, known as the Coastal Road massacre, in 1978, when she and other Fatah terrorists hijacked a bus on Israel's Coastal Highway, murdering 37 civilians, 12 of them children, and wounding over 70.


Khaled Al-Hassan (Abu Said) - was a co-founder of Fatah and a close adviser to Yasser Arafat. Al-Hassan served as a PLO Executive Committee member and later as chairman of the Foreign Relations Committee of the Palestinian National Council. Al-Hassan died of cancer on Oct. 8, 1994.

Majed Abu Sharar - senior Fatah and PLO leader from the 1970s.

Saad Sayel - Senior Fatah commander. He led the PLO forces that were based in Lebanon during the early 1980s.

Karim Younes - Israeli Arab terrorist who kidnapped and murdered Israeli soldier Avraham Bromberg in 1980 together with his cousin Maher Younes. Younes was originally sentenced to life in prison, but Israeli President Shimon Peres reduced his sentence in 2012. Younes is serving a 40-year sentence. In May 2017 Younes was appointed by PA Chairman Mahmoud Abbas to the Fatah Central Committee. Younes was released from prison on Jan. 5, 2023.


» View analysis citing this item