Monument honors murderer of 9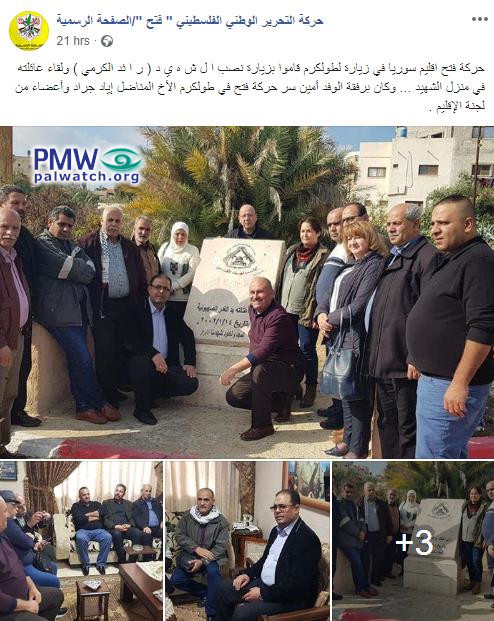 Text and pictures posted on the official Fatah Facebook page
Posted text: "Fatah Movement – Syria Branch visits Tulkarem. They visited the monument in memory of M a r t y r (the letters are spaced in source, apparently to avoid flagging by Facebook algorithms –Ed.) Raed Al-Karmi (i.e., terrorist, responsible for murder of 9) and met with his family at the Martyr's house. The delegation was accompanied by Fatah Secretary in Tulkarem brother fighter Iyad Jarrad and members of the branch's committee."
The pictures show the Syrian and Tulkarem Fatah members next to the monument in honor of terrorist Raed Al-Karmi. At the top of the monument is the logo of the Al-Aqsa Martyrs' Brigades, which features crossed assault rifles over the Dome of the Rock.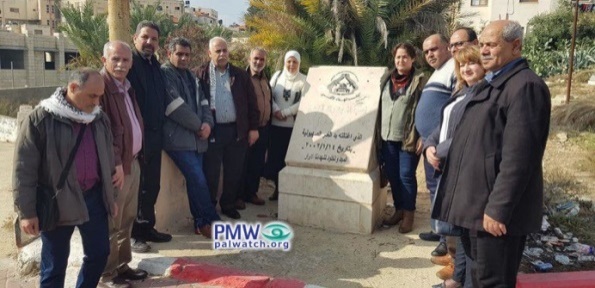 Text on monument:
"The Al-Aqsa Martyrs' Brigades (i.e., Fatah's military wing)
[Raed Al-Karmi] (the text is worn away and unclear –Ed.)
who was assassinated by the Zionist hand of treason on Jan. 1, 2002
Eternity and glory to our righteous Martyrs"
Raed Al-Karmi – Palestinian terrorist and senior Tanzim (Fatah terror faction) member responsible for the murder of 9 Israelis in several attacks: Etgar Zeituni and Motti Dayan on Jan. 23, 2001; Zvi Shelef on May 31, 2001; Danny Yehuda on June 18, 2001; Elie Na'aman on July 4, 2001; Dov Roseman on Aug. 26, 2001; soldier Yaniv Levy on Aug. 28, 2001; Israeli army officer Erez Merhavi on Sept. 6, 2001; and Hananya Ben Avraham on Oct. 5, 2001. Al-Karmi was killed by the Israeli army on Jan. 14, 2002.