PA governor visits mother of terrorist murderer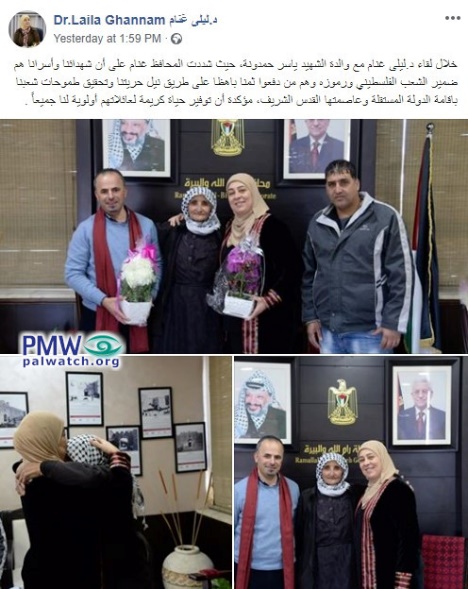 Text and pictures posted on the Facebook page of Ramallah and El-Bireh District Governor Laila Ghannam
Posted text: "During [Ramallah and El-Bireh District Governor] Dr. Laila Ghannam's visit with the mother of Martyr Yasser Hamdouni (i.e., terrorist, participated in murder of 1), District Governor Ghannam emphasized that our Martyrs and prisoners are the conscience of the Palestinian people and its symbols, and that they are the ones who have paid a heavy price on the path to our freedom and the realization of our people's aspirations: the establishment of an independent state whose capital is Jerusalem. She emphasized that the concern for dignified lives for their families is a priority for all of us."
The pictures show Ramallah and El-Bireh District Governor Laila Ghannam visiting the mother of terrorist Yasser Hamdouni, who participated in the murder of 1. In one picture Ghannam is hugging Hamdouni's mother, and in the other two pictures Ghannam and Hamdouni's mother are standing in front of a Palestinian flag, a picture of PA Chairman Mahmoud Abbas, the PLO emblem in the shape of an eagle with a Palestinian flag on it, and a picture of former PLO and PA Chairman Yasser Arafat.
Yasser Dhiab Hamdouni was a Palestinian terrorist and member of the Al-Aqsa Martyrs' Brigades (Fatah's military wing) who participated in the murder of Israeli civilian Avner Maimon in the Palestinian town of Ya'abad in the West Bank on June 12, 2003. Hamdouni was serving a life sentence when he died on Sept. 25, 2016 after collapsing while exercising in the Israeli Rimon Prison yard.
Yasser Arafat – Founder of Fatah and former chairman of the PLO and PA. During the 1960s, 70s and 80s Arafat was behind numerous terror attacks against Israelis. Although he received the Nobel Peace Prize in 1994 together with then Israeli Prime Minister Yitzhak Rabin and then Israeli Minister of Foreign Affairs Shimon Peres "for their efforts to create peace in the Middle East" after signing the Oslo Accords peace agreement, Arafat launched a 5-year terror campaign - the second Intifada (2000-2005) – in which more than 1,000 Israelis were murdered. Arafat died of an illness in 2004.