Fatah delegation visits home of terrorist "Martyr"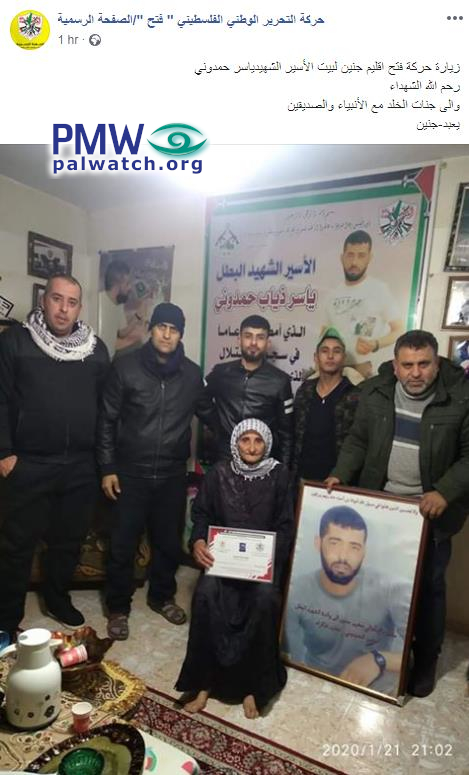 Image and text posted on the official Fatah Facebook page
Posted text: "A visit by [a delegation of] the Fatah Movement's Jenin branch to the home of prisoner Martyr Yasser Hamdouni (i.e., terrorist, murdered 1).
May Allah have mercy on the Martyrs, [may they reach] Paradise with the prophets and the righteous
Ya'abad/Jenin"
The image is from the Fatah delegation's visit to terrorist Yasser Hamdouni's house. In the background is a large poster with a picture of Hamdouni on the right, and in the upper right is the Fatah logo that includes a grenade, crossed rifles, and the PA map of "Palestine" that presents all of Israel as "Palestine" together with the PA areas. The Palestinian flag frames the poster's edges.
Text on poster: "Heroic prisoner Martyr Yasser Dhiab Hamdouni"
Yasser Dhiab Hamdouni was a Palestinian terrorist and member of the Al-Aqsa Martyrs' Brigades (Fatah's military wing) who participated in the murder of Israeli civilian Avner Maimon in the Palestinian town of Ya'abad in the West Bank on June 12, 2003. Hamdouni was serving a life sentence when he died on Sept. 25, 2016 after collapsing while exercising in the Israeli Rimon Prison yard.