Fatah promotes violence for kids with picture of children in military uniforms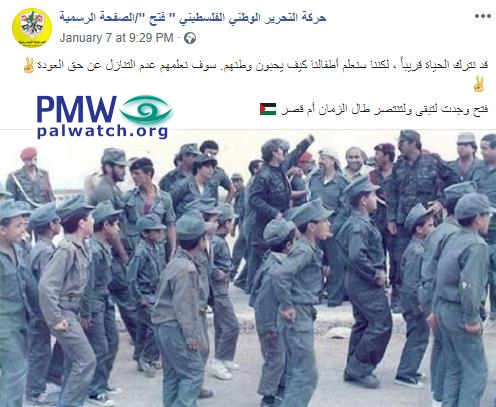 Image and text posted on the official Fatah Facebook page
The image is an old photograph of children in military uniforms standing in formation; in the background is former PLO and PA Chairman Yasser Arafat.
Posted text: "Soon we may bid life farewell, but we will teach our children how to find their homeland. We will teach them not to relinquish the right of return.
Fatah is here to stay and triumph, sooner or later"
Yasser Arafat – Founder of Fatah and former chairman of the PLO and PA. During the 1960s, 70s and 80s Arafat was behind numerous terror attacks against Israelis. Although he received the Nobel Peace Prize in 1994 together with then Israeli Prime Minister Yitzhak Rabin and then Israeli Minister of Foreign Affairs Shimon Peres "for their efforts to create peace in the Middle East" after signing the Oslo Accords peace agreement, Arafat launched a 5-year terror campaign - the second Intifada (2000-2005) – in which more than 1,000 Israelis were murdered. Arafat died of an illness in 2004.