Explosives thrown at Ramallah restaurant that hosted "normalization" meeting between senior PA official and Israeli journalists
Headline: "Unknown people threw Molotov cocktails at a Palestinian restaurant"
"Molotov cocktails were thrown at a Palestinian restaurant on Monday [Feb. 17, 2020] by unknown people who said that the operation came as a response to a meeting that they defined as 'normalization.'
Witnesses said… that no damage at all was caused to it. No immediate explanation about the incident was issued by the Palestinian police or the restaurant's management.
In a statement signed by prisoner Yazan Maghamis (i.e., terrorist, murdered 1), from the imprisoned [members] of the Popular Front [for the Liberation of Palestine] (PFLP), it was noted that what happened on Sunday (i.e., the meeting that preceded the attack the next day) at the Casper & Gambini's restaurant confirms [the existence of] a so-called 'corrupt system of treason and normalization, which led to a meeting between [Supreme Shari'ah Judge] Mahmoud Al-Habbash and a Zionist delegation.' [Maghamis] added: 'Our Palestinian people will get revenge on you… The fate of all of the companies, restaurants, and cafes that carry out normalization will be like the fate of this restaurant, on which we took revenge on behalf of our prisoners and Martyrs.'
…
It should be noted that Supreme Shari'ah Judge of Palestine Mahmoud Al-Habbash met yesterday with a delegation of Israeli journalists at the Casper & Gambini's restaurant that is in the center of Ramallah, which aroused Palestinian anger on social media in resistance to this meeting.
Mahmoud Al-Habbash said that the meeting that he held with a group of Israeli journalists 'is in the framework of the Palestinian leadership's efforts to deal with the plot of the deal of the century (i.e., US President Donald Trump's Middle East peace plan; see note below).' Al-Habbash wrote on his Facebook page: 'Today, Sunday, I met in Ramallah with a group of Israeli journalists in the presence of Mahmoud Al-Madani, [Fatah Central Committee member and] Chairman of the PLO Committee for Interaction [with Israeli Society], which organized this meeting.'"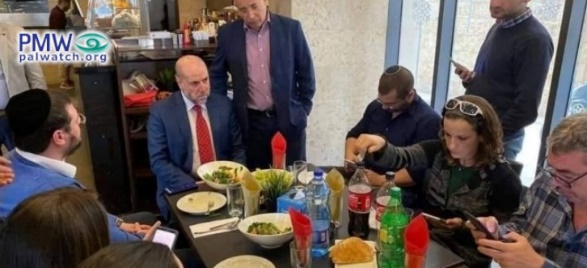 The article includes a picture from the meeting between Supreme Shari'ah Judge Mahmoud Al-Habbash and Israeli journalists.
Yazan Hussein Hosni Maghamis - Palestinian terrorist and Popular Front for the Liberation of Palestine (PFLP) terror organization member who, together with others, murdered 17-year-old Rina Shnerb and wounded her brother and father near the Dolev Spring on Aug. 26, 2019 by using a remote detonator to activate a bomb next to them. Maghamis' other indictments include participation in other terror attacks; he is on trial as of Feb. 19, 2020.
Mahmoud Al-Habbash also holds the position of Chairman of the Supreme Council for Shari'ah Justice.
The Trump peace plan – US President Donald Trump announced his Israel–Palestinian peace plan "Peace to Prosperity" – commonly known as "the deal of the century" - on Jan. 28, 2020. Main points of the plan: 1- Israeli sovereignty would be applied to the Jordan Valley and all Israeli towns and cities in the West Bank. 2- Jerusalem, including all its holy sites, would remain under Israeli sovereignty with accommodations made to enable access for Palestinians. 3- The remainder of the West Bank, the Gaza Strip, and part of what is currently Israeli land in the Negev, the Galilee, and Jerusalem - creating a territory almost equal in size to the West Bank and Gaza Strip - would form the Palestinian state, with its capital in neighborhoods in East Jerusalem that are outside of Israel's security wall. 4- The Palestinian state would be demilitarized, with Israel responsible for external security and controlling all airspace. 5- All Palestinian prisoners except murderers, and those who attempted or conspired to murder would be released. 6- Palestinians in refugee camps would be absorbed into their host countries and, subject to certain limitations, into the Palestinian state. 7- Before becoming a state, the Palestinians would have to carry out extensive reform of their laws and institutions, including implementing a new governing system; granting its people due process and basic human rights and freedoms; end all incitement to and incentivizing of terror; end all glorification of terror and martyrdom; disarm Hamas; and adopt a culture promoting peace. The goal of the plan is to create a Palestinian state beside Israel, living in peace and security. The implementation would be facilitated through extensive international investment.