Map of "Palestine" that erases Israel in PLO official's office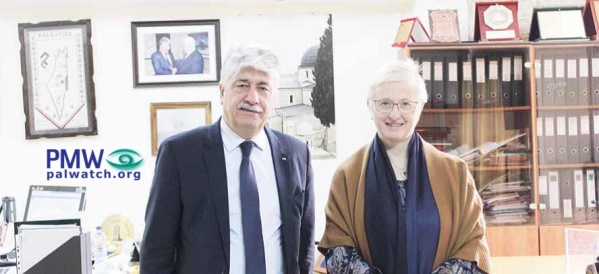 The article includes a picture of the meeting at PLO Executive Committee member Ahmed Majdalani's office. Hanging on the wall in the background on the left is the PA map of "Palestine" that presents all of Israel as "Palestine" together with the PA areas.
Text above the map in English: "Palestine"
"PLO Executive Committee member [and Secretary-General of the Palestinian Popular Struggle Front (PPSF)] Ahmed Majdalani met with Belgian Consul General Danielle Haven. He expressed his appreciation for the position of her country, which supports the State of Palestine.
During the meeting Majdalani emphasized the importance of the support that the European Union states are providing. He emphasized that it is important that they continue this by taking practical and concrete steps against the occupation government."
Ahmed Majdalani also serves as head of the PLO Department of Labor and Planning.