Palestinian family renounces son who converted to Judaism, says he's a devil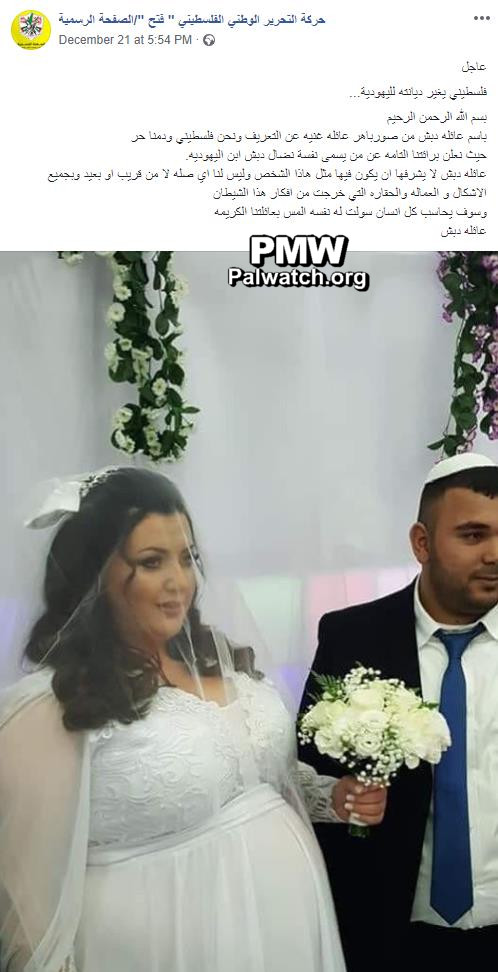 Image and text posted on the official Fatah Facebook page
The image shows Daniel Dabash's wedding after returning to Judaism.
Posted text:
"Urgent
A Palestinian converts to Judaism (sic., Daniel Dabash did not convert, he is a Jew as his mother was Jewish)
In the name of All Merciful Allah
In the name of the Dabash family from Sur Baher (i.e., a neighborhood in southeastern Jerusalem), a family that needs no introduction, and we are Palestinians and our blood is free
We announce our absolute renunciation of the one who calls himself Nidal Dabash (i.e., Daniel Dabash, raised as Nidal), the son of the Jewess (Dabash who is the son of a Jewish woman who married an Arab man – was raised as a Muslim Arab and later returned to Judaism –Ed.).
The Dabash family is not honored by a man like this being part of it, and we have no connection in any way to the treason and vileness that have emerged from the ideas of this devil.
We will settle accounts with anyone who is tempted to harm our honorable family.
The Dabash family."