PA deceives Palestinians: Claims Israel fabricated terror attack, despite video
Nan Jacques Zilberdik and Itamar Marcus
|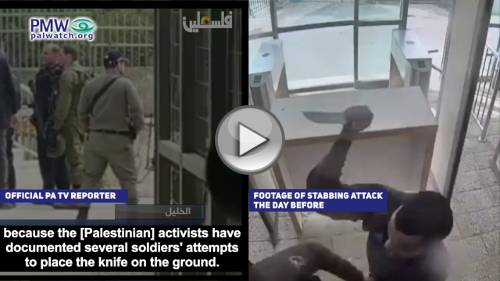 After a Palestinian terrorist recently tried to stab an Israeli Arab soldier at the Israeli checkpoint at the Cave of the Patriarchs in Hebron, official Palestinian Authority TV repeated the libel that Israeli soldiers place knives on the ground to fake stabbing attacks. PA TV claimed this although the stabbing attack the day before was captured on video: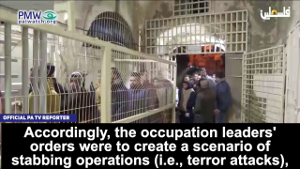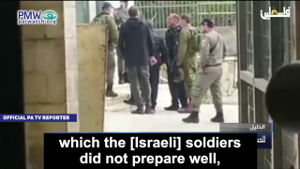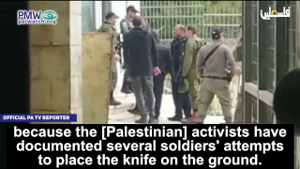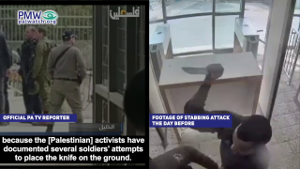 Official PA TV reporter: "The occupation leaders' orders were to create a scenario of stabbing operations (i.e., terror attacks), which the [Israeli] soldiers did not prepare well, because the [Palestinian] activists have documented several soldiers' attempts to place the knife on the ground."

[Official PA TV News, Feb. 18, 2020]
Palestinian Media Watch exposed that the PA lied in the same way last year when two 14-year-old Palestinians exited the Temple Mount and stabbed and attempted to murder an Israeli policeman. Despite the fact that video footage from the attack clearly shows the two Palestinians attacking the policeman with knives, official PA TV reported that the young Palestinians had been "summarily executed."
During the Palestinian wave of terror 2015-2016, also coined "the Knife Intifada" due to the many Palestinian stabbing attacks, PMW exposed the PA's attempt to portray the Palestinian terrorist stabbers as "innocent" claiming Israel was fabricating the many attacks in order to "execute" Palestinians: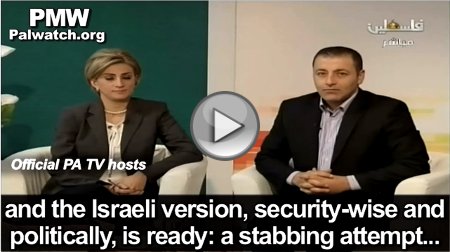 PMW was later able to document that the PA itself admitted that 161 Palestinians did carry out stabbing attacks during the Palestinian terror wave of 2015-2016.
The recent attempted stabbing was carried out by a Palestinian terrorist who attempted to smuggle a knife into the Cave of the Patriarchs in Hebron on Feb. 17, 2020. When an Israeli Arab border policeman at the checkpoint became suspicious and asked to check him, the terrorist attempted to stab the border policeman. The attack was thwarted and the terrorist arrested.
The following is a longer excerpt of the PA TV report on the alleged faked stabbing attack:
Official PA TV reporter: "The sight of the many [Palestinian] citizens passing through the checkpoints without hesitation or fear did not please the most extreme settler leaders… Accordingly, the occupation leaders' orders were to create a scenario of stabbing operations (i.e., terror attacks), which the [Israeli] soldiers did not prepare well, because the [Palestinian] activists have documented several soldiers' attempts to place the knife on the ground."

[Official PA TV News, Feb. 18, 2020]