Winter camps at center named after terrorist leader
Official PA TV program Palestine This Morning, on the concluding activities of the PLO Supreme Council for Sport and Youth Affairs' winter camp at the Martyr Salah Khalaf Center in Al-Faria
Official PA TV reporter: "We are at Al-Faria, at the Martyr Salah Khalaf Center (i.e., Salah Khalaf was a terrorist and Fatah founder, responsible for more than 11 murders). We are broadcasting the concluding activities of the winter camps that the [PLO] Supreme Council for Sport and Youth Affairs established, and in which approximately 200 male and female guides aged 13-16 participated. They were divided into three camps. The last camp took place today [Jan. 12, 2019], the winter camp, in which these concluding activities are taking place at this camp."
Visual:
Drawings of Palestinian flags are seen, and the following text appears on the screen: "The winter camps in the Al-Faria [refugee] camp"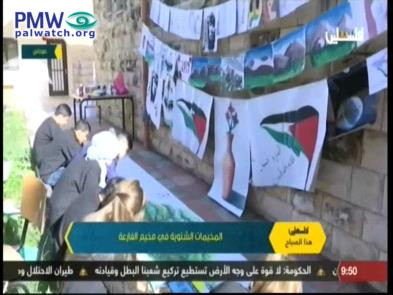 Text on sign on second screenshot is indecipherable.
Abu Iyad (Salah Khalaf) - PLO Chairman Yasser Arafat's deputy, one of the founders of Fatah, and head of the terror organization Black September, a secret branch of Fatah. Attacks he planned include the murder of 11 Israeli athletes at the Munich Olympics (Sept. 5, 1972) and the murder of two American diplomats in Sudan (March 1, 1973). It is commonly assumed that his assassin, a former Fatah bodyguard, was sent by the Abu Nidal Organization, a rival Palestinian faction.