Syrian Palestinian refugees in Lebanon want to return to "Palestine"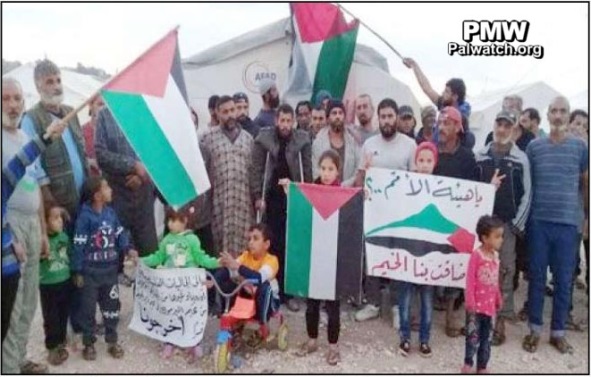 The article includes a picture from the solidarity vigil in which participants are waving Palestinian flags. One girl, who is making a "V" symbol for "victory" with her fingers, is holding a poster featuring the PA map of "Palestine" that presents all of Israel as "Palestine" together with the PA areas, in the colors of the Palestinian flag.
Text on poster: "O [Hamas Political Bureau Chairman Ismail] Haniyeh, how much longer? The [refugee] camp is confining for us."
Headline: "Refugees of Lebanon and Syria in solidarity vigils as a sign of support for Gaza"
"The Syrian Palestinian refugees in the Al-Badawi refugee camp in northern Lebanon held a vigil of solidarity with the residents of Gaza as a sign of rejecting the latest escalation of aggression against the Gaza Strip (see note below –Ed.)."
Israel-Hamas clash in November 2018 – an Israeli special forces unit entered the Gaza Strip on a secret mission on Nov. 11, 2018, and exchanged fire with Palestinian terrorists after being exposed. An Israeli lieutenant colonel and 7 terrorists – including Hamas Commander of Khan Yunis Nour Barakeh – were killed in the exchange. Following the incident Hamas fired hundreds of missiles at Israeli civilian targets, wounding a number of Israelis and killing a Palestinian worker in Ashkelon, and Israel bombed a number of terror targets in Gaza. A ceasefire was reached on Nov. 14, 2018.