Israeli Arab MP supports imprisoned terrorists, claims Israel is giving prisoners "the most basic treatment as a means of slowly killing [them]"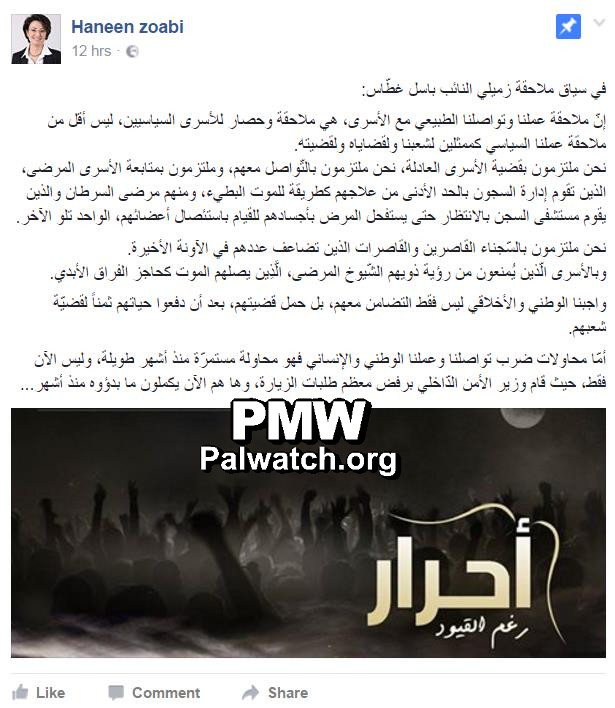 Image and text posted on the Facebook page of Israeli Arab Parliament member Hanin Zoabi
Posted text:
"Regarding the persecution of my colleague, [Israeli Arab] Parliament member Basel Ghattas (Ghattas is under investigation for smuggling cell phones to terrorist prisoners; see note below –Ed.):
The persecution of our activity and our natural connection with the prisoners is like the persecution of the political prisoners and their isolation. [This is persecution] that is no less than the persecution of our political activity as representatives of our people, its issues, and its causes.
We are committed to the just cause of the prisoners. We are committed to being in contact with them, and committed to tracking the situation of the sick prisoners, to whom the [Israeli] Prison Service is giving the most basic treatment as a means of slowly killing [them]. Among them are those who are sick with cancer, for whom the prison's hospital is waiting until the disease spreads in their bodies in order to remove their organs one after the other. We are committed to the male and female minor prisoners, whose numbers have doubled recently. [We are committed] to prisoners who are forbidden from seeing their elderly and sick family members, whom death comes to as an obstacle of eternal separation.
Our national and moral obligation is not only to express solidarity with them, but rather to bear their cause, after they have given their lives for their people's cause.
Regarding the attempts to harm our connection [with the prisoners] and our national and humanitarian activity, these have been continuing for many months and not just now. [Israeli] Minister of Public Security [Gilad Erdan] has rejected most of the requests for [prisoner] visits, and now they are continuing what they started months ago."
The image shows a group of people raising their fists in the darkness.
Text on image: "Free people despite the chains"
Gilad Erdan also holds the following roles: Minister of Strategic Affairs and Minister of Information.
The Israeli Parliament was to vote on stripping Israeli Arab Parliament member Basel Ghattas of his parliamentary immunity, after he was caught smuggling cell phones and coded messages to two terrorist prisoners, one of them being Walid Daqqa. Ghattas was questioned by police on Dec. 20, 2016, and admitted to passing them the materials after he was confronted with video evidence of the smuggling. After an initial vote to strip him of his immunity passed, Ghattas agreed to forego his immunity and was arrested by police for investigation on Dec. 22, 2016.
Walid Daqqa - Israeli Arab member of the Popular Front for the Liberation of Palestine (PFLP). He is serving a life sentence for being part of the squad that kidnapped and murdered Israeli soldier Moshe Tamam in 1984.