Investigative Project on Terrorism quotes "extensive" PMW reports on PA Coronavirus libels
Note: All links to PMW reports were in original text

Headline: "Palestinian Authority Joins Islamist Extremists in Spreading COVID-19 Conspiracies"
Radical Islamists of all stripes – from the Islamic State to the Islamic Republic of Iran – continue to spew conspiracy theories on the origins of the coronavirus...
What is the Palestinian Authority (PA)'s official stance when it comes to the global pandemic?
Earlier this month, some experts claimed that Israel and the PA were cooperating effectively to combat a mutual concern. It appears that the Palestinian government was playing a double game, however, and integrated COVID-19 into its long-standing practice of inciting against Israel on a systematic level. The PA accuses Israel of purposefully spreading the virus to the West Bank in an effort to "annihilate" the Palestinian people, according to extensive reporting from Palestinian Media Watch (PMW).
But the numbers tell a different story.
As of Monday, 259 people in the West Bank are reported to have coronavirus and two people have died from the virus – a relatively low figure... most COVID-19 cases in the West Bank have been traced to Palestinians who work in Israel. The PA sought to spin this information to accuse Israel of deliberately targeting Palestinian areas with the virus.
For example, on April 5, the official PA daily al-Hayat al-Jadida published an article claiming that "Palestinian prisoners are being burned between the fangs of Israel and the Coronavirus." The article, translated by PMW, featured a Fatah spokesman warning of Israel's "exploitation of the coronavirus in order to annihilate the Palestinian prisoners."
Another PA conspiracy (also exposed by PMW) claims that Israel is deliberately infecting Palestinian prisoners held in Israeli jails with the virus.
One video, posted to a Palestine Liberation Organization (PLO) Facebook page, depicts a tank taking aim at a Palestinian child while coronavirus particles threaten children imprisoned in Israeli jails.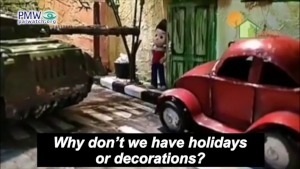 Palestinian Media Watch assembled a collection of Palestinian images depicting Israelis attacking Palestinians with coronavirus.
The PA Prime Minister Muhammad Shtayeeh's voice is superimposed on another PLO-produced clip depicting this modern-day blood libel, calling for the release of all Palestinian prisoners.
Despite U.S. and international pressure, the PA continues to transfer payments to convicted terrorists and their families. The amount of money paid to imprisoned or released terrorists depends on the length of sentence, which is a function of an action's severity. The more brutal the attack or murder, the more money a Palestinian prisoner receives.
On March 30, after airing footage of an Israeli soldier simply spitting on the ground, the PA's official daily (reported by PMW) claimed that "dozens of occupation soldiers spit on cars of (Palestinian) residents and the door handles of the homes" to spread COVID-19. A day earlier, Fatah's official Facebook page stated that Israel is waging "a biological war against Palestine."
Another article in the PA's official daily last month claimed that Israel is attempting to "thwart" Palestinian efforts to combat the virus.
[https://www.investigativeproject.org/8370/palestinian-authority-joins-islamist-extremists]