Suicide bomber honored as "heroic Martyr" on Facebook: "The hero Idris put on an explosive belt and blew herself up on Jaffa Street"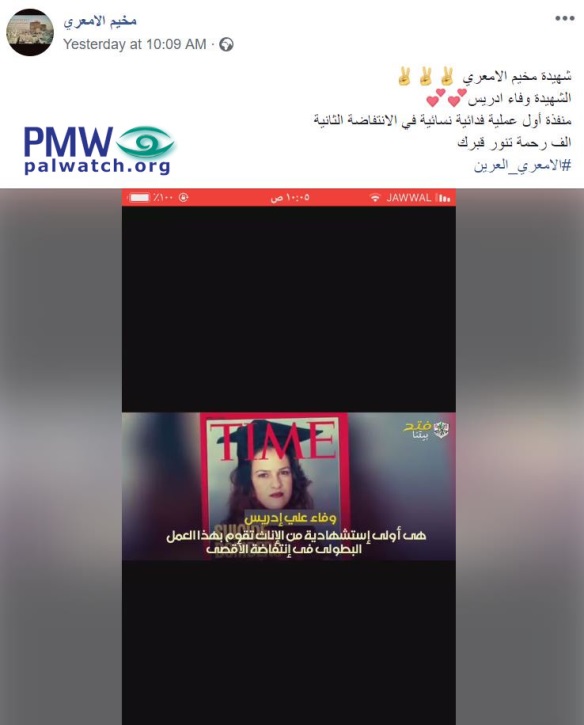 Text and video posted on the Facebook page of the Al-Amari refugee camp
The screenshot shows terrorist Wafa Idris – a suicide bomber who murdered 1 and wounded over 150 – on the cover of the April 15, 2002 Europe/Middle East/Africa edition of Time magazine.
Posted text:
"Martyr of the Al-Amari [refugee] camp
Martyr Wafa Idris
The one who carried out the first female self-sacrificing (Fida'iya) operation in the second Intifada (i.e., PA terror campaign 2000-2005)
Mercy and light on your grave
#Al-Amari_lion's_den"
Visual:
Throughout the video the Fatah logo that includes a grenade, crossed rifles, and the PA map of "Palestine" that presents all of Israel as "Palestine" together with the PA areas appears on the screen with the text: "Fatah is our home."
At the beginning, footage is shown in which Wafa Idris is seen in her role as a Red Crescent volunteer driving an ambulance. This is followed by slides with texts.
Text: "She wore her explosive belt and wanted to return to us a page from the pages of self-sacrifice. She parted from everyone, and gave a speech from the podium of life, a speech without tears and without fear
Self-sacrificing fighter Wafa Idris –
The first female Martyrdom-seeker in the second Al-Aqsa Intifada"
Visual: Pictures of Idris.
Text: "She joined a medical course, and afterwards joined the Palestinian Red Crescent association in the Al-Amari [refugee] camp.
On Jan. 27, 2002, the hero Idris put on an explosive belt and blew herself up on Jaffa Street in occupied Jerusalem."
Visual: Pictures of terror attacks.
Text: "The operation led to the death of an Israeli and the wounding of approximately 90 others.
On Jan. 30, 2002, the Al-Aqsa Martyrs' Brigades, the Fatah Movement's military wing, announced its responsibility for the Martyrdom-seeking operation, in an announcement in which it said: 'In an unprecedented quality operation at the heart of the Zionist entity, one of this rebelling people's female fighters succeeded in carrying out the latest operation on Jaffa Street at the heart of West Jerusalem. This is the heroic Martyr, daughter of the brigades, Wafa Ali Idris, 26,one of the residents of the fortress of resolve, the Al-Amari camp.' …
Wafa Idris is one of the first Martyrdom-seeking women that carried out this heroic operation in the Al-Aqsa Intifada."
Visual: Several pictures of Wada Idris, including of her on the cover of Time magazine.
Text: "Self-sacrificing fighter Wafa Idris, the first female Martyrdom-seeker in the al-Aqsa Intifada."