PA daily presents Martyrdom in a positive light; Mother expresses pride in her son's death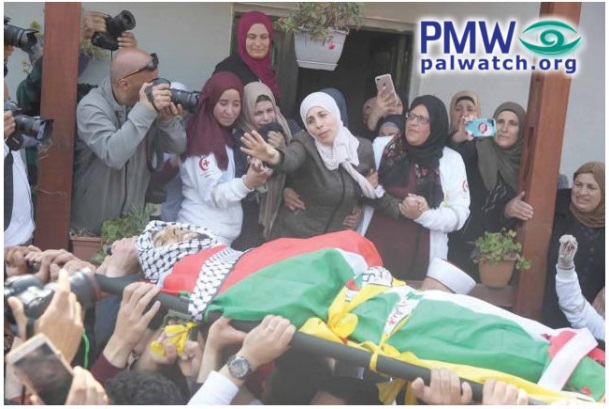 Headline: "'The mother of the Martyr' – Manasrah's present to his mother on Mother's Day"
"'They accompanied the Martyr (Shahid) to his wedding (i.e., Martyr's funeral is considered wedding to the 72 Virgins in Paradise in Islam)… they accompanied the Martyr to his second home in Paradise' – with these words Fadwah Manasrah, mother of Martyr Ahmed [Manasrah] (i.e., rioter, killed after throwing rocks at cars; see note below), received the news of his death as a Martyr, which she considered the most tremendous and greatest honor on Mother's Day. She also requested a reward for him from Allah, and wished that He would receive him together with the Martyrs, righteous, and virtuous in Paradise. [She added that] her son died as a Martyr for Palestine, and everything is a small price for it.
And as [Lebanese composer] Marcel Khalife said: 'The most beautiful of mothers awaited her son as he returned as a Martyr, cried two tears and a flower, and did not don the clothes of mourning.' Here she is, the mother of the Martyr, who plans to welcome her son the groom with flowers and cries of joy, while all the women of the neighborhood gather around her; and the nickname 'the mother of the Martyr' is a gift on Mother's Day…
'O mother of the Martyr, may you be blessed! If only my mother were in your place' – these calls were heard from the young people who gathered before the Beit Jala governmental hospital, where Martyr Manasrah lay, and from where the funeral procession would set out in the afternoon, in order to bury him in the village of his birth, Wadi Fukin, west of Bethlehem."
The picture accompanying the article shows Ahmed Manasrah covered in a Palestinian flag and keffiyeh (Arab headdress), being born on a stretcher, with his mother reaching out to him.
Ahmed Jamal Mahmoud Manasrah – 28-year-old Palestinian rioter who was shot and killed by an Israeli soldier after he threw rocks at passing cars near a military post by the entrance to Bethlehem on March 20, 2019. An Israeli army investigation found the soldier followed standard procedures in warning Manasrah to stop before opening fire; one other Palestinian was also shot and wounded by the soldier. The Israeli army announced it will continue to investigate the incident.