\Dalal Mughrabi dance group at Fatah-PLO conference honoring terrorists
Article and video posted by the independent Palestinian news agency PNN, on conference honoring families of terrorist prisoners and dead terrorists whose bodies are being held by Israel
"The Palestinian National Liberation Movement – Fatah, the [PLO] Commission of Prisoners and Released Prisoners' Affairs, the [PA-funded] Prisoners' Club, [and] the National Association of the Families of the Martyrs (Shahids) [of Palestine]… honored the families of the prisoners who have been sentenced to life in prison and the prisoners who have been sentenced to more than 10 years, and the relatives of the Martyrs who are being held by the occupation."
The article includes video footage from the event.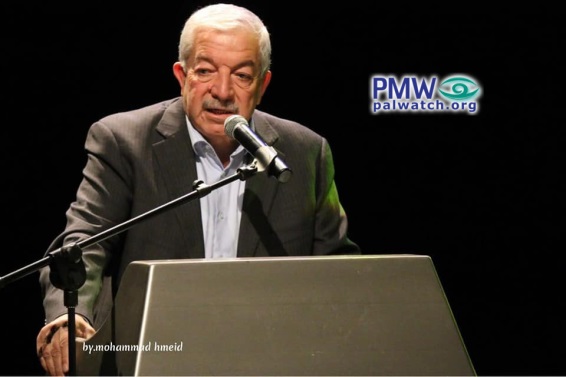 PNN host: "We and you are about to enjoy the Dalal Group (i.e., a dance group that is part of a non-governmental folk art and culture institute), which is named after Martyr Dalal Mughrabi (i.e., terrorist who led murder of 37, 12 of them children)."
The article includes pictures of Fatah Deputy Chairman and Fatah Central Committee member Mahmoud Al-Aloul and former Director of PLO Commission of Prisoners' Affairs Issa Karake giving speeches at the event.
Dalal Mughrabi – female Palestinian terrorist who led the most lethal terror attack in Israel's history, known as the Coastal Road massacre, in 1978, when she and other Fatah terrorists hijacked a bus on Israel's Coastal Highway, murdering 37 civilians, 12 of them children, and wounding over 70.