Map of "Palestine" that replaces Israel at vigil for imprisoned terrorist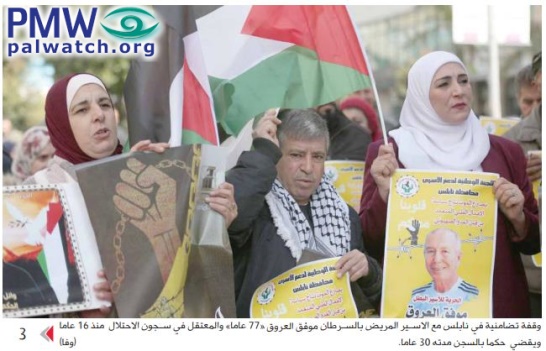 The article includes a photo from the vigil, in which a poster on the far left is seen featuring the PA map of "Palestine" that presents all of Israel as "Palestine" together with the PA areas covered with the colors of the Palestinian flag.
"A vigil of solidarity in Nablus with the prisoner who is sick with cancer, Muwaffaq Uruq (i.e., terrorist, involved in murder of 23), 77, who has been imprisoned in the occupation's prisons for 16 years and is serving 30 years of imprisonment."
Muwaffaq Naif Hassan Uruq – Arab-Israeli terrorist who led two suicide bombers to their double attack in Tel Aviv in which 23 people were murdered and dozens injured on Jan. 5, 2003. Uruq is serving a 30-year sentence.