PA children echo adults' terror values
Itamar Marcus and Nan Jacques Zilberdik
|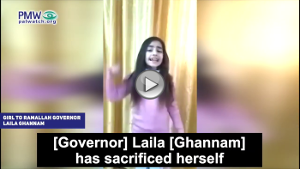 Young girl: Child murderer is Palestinian symbol of "great"

Young girl to Ramallah governor: You are "great" - a "sister of Dalal" - killer of 12 children and 25 adults
Don't be surprised that a Palestinian child who wants to praise the governor of Ramallah chooses to define her as "great" because she is like Dalal Mughrabi – a female mass murderer who together with other terrorists killed 12 children and 25 adults in 1978. A young girl expressed her admiration for Ramallah Governor Laila Ghannam by referring to her as "sister of Dalal," because of her "fighting" both the Coronavirus and "the Zionist enemy":
Girl to Ramallah Governor Laila Ghannam: "Laila has sacrificed herself for the security of the citizens and the homeland. O how great you are, Laila the Palestinian. O how great you are, sister of Dalal [Mughrabi] (i.e., terrorist murderer of 37), when you fight the [Coronavirus] epidemic, and when you fight the Zionist enemy - daring and courageous like the brave lion."

[Facebook page of Ramallah and El-Bireh District Governor Laila Ghannam, April 8, 2020]
Endorsing the praise, the governor posted the video on her official Facebook page.
The girl's choice of a female role model who is a mass murderer unfortunately is not surprising, as the PA has made a great effort to establish terrorist murderer Dalal Mughrabi as a hero for Palestinians. For example, a PA schoolbook teaches 11-year-old Palestinian children that child murderer Mughrabi is one of the Palestinian heroes who "everyone wants to be like." Proving its educational point, the PA has also named at least five schools after murderer Mughrabi as well as other institutions.
Two weeks ago, Palestinian Media Watch reported that the PA published names and pictures of "the giants of Palestinian history" – they were all terrorists and murderers of Israeli children and adults, now imprisoned by Israel.
PMW has documented for years that Palestinian children are listening to, absorbing, and ultimately echoing the hate they are taught by adults. Seeing that Palestinian children are brought up to believe that everyone wants to be like murderer Mughrabi, and that whoever attacked or succeeded murdering Israelis is a "giant," it is no surprise that a young girl's ultimate expression of honor to the governor of Ramallah is telling her she is a "sister" of a mass murderer.
Moreover, PMW has documented this indoctrination of children to glorify terror and Martyrdom for years – coining it Palestinian child abuse. Children are taught to recite poems expressing their desire to die as Martyrs while killing Israelis, and some even declare their desire to emulate real murderers.
The evil of the Palestinian world that is the reality of today is the hate and terror that the PA promotes and rewards. But the hidden tragedy and danger that we will experience in the future is the result of the values of hate, terror, and Martyrdom that the PA has embedded in the hearts and minds of Palestinian children.
The following text was posted with the girl's video on Fatah's official Facebook page:
"Watch: This girl's message to [Ramallah and El-Bireh] District Governor Dr. Laila Ghannam
May Allah guard you and all our children from all evil
#Stay_at_home"
[Facebook page of Ramallah and El-Bireh District Governor Laila Ghannam, April 8, 2020]
Dalal Mughrabi – female Palestinian terrorist who led the most lethal terror attack in Israel's history, known as the Coastal Road massacre, in 1978, when she and other Fatah terrorists hijacked a bus on Israel's Coastal Highway, murdering 37 civilians, 12 of them children, and wounding over 70.