PA exploits tragic killing in US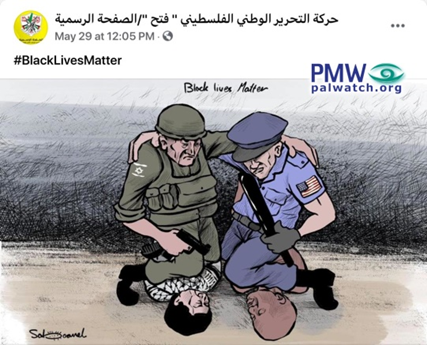 Text on cartoon in English: "Black lives matter"
The Palestinian Authority and Fatah were both quick to exploit the recent tragedy in the US to demonize Israel by comparing Israeli soldiers' actions, to the American policeman who killed an African American. The PA's repeating libel is that Israel deliberately kills Palestinians and it uses every opportunity to disseminate the lie.
The cartoon above was published following the death of African American US citizen George Floyd in Minneapolis, Minnesota, on May 25, 2020. Floyd was killed by a white police officer named Derek Chauvin who kneeled on his neck for almost 9 minutes when arresting him, ignoring his pleas that he could not breathe. Following Floyd's death, violent protests erupted across the US. Officer Chauvin has since been charged with third degree murder and manslaughter.
This tragedy was exploited by the PA and Fatah to again launch its libel that Israel intentionally executes Palestinians. The cartoon, drawn by the regular cartoonist of the official PA daily Al-Hayat Al-Jadida, Muhammad Saba'aneh, shows an Israeli soldier (left) kneeling on a Palestinian and a white American police officer – representing Derek Chauvin –kneeling on an African American – representing George Floyd. The cartoon uses many visuals to present its libel. Both officers are kneeling on the necks of their victims, the two officers are hugging each other, one holds a club and the other a gun, and they both have their country's flags on their shoulders. The cartoon's message: Israeli soldiers are the mirror image of Derek Chauvin.
Posted text in English: "#BlackLivesMatter"

[Official Fatah Facebook page, May 29, 2020;
official PA daily Al-Hayat Al-Jadida, June 1, 2020]