Fatah camp for youth named after murderer
Abbas' Fatah named a military camp for high school boys after a murderer of two Israelis – terrorist Omar Abu Laila:
"The Martyr Omar Abu Laila Camp"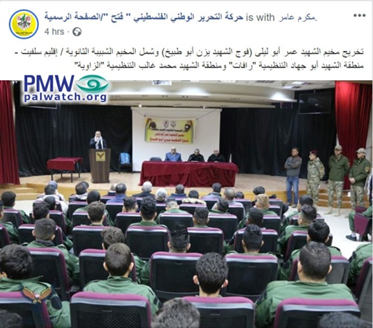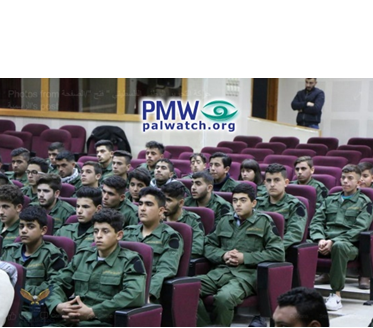 This is another tragic illustration of the PA and Fatah's role modeling to youth. The camp for high school boys, which was held earlier this year, was named after the 19-year-old terrorist murderer Omar Abu Laila who killed 2 Israelis, and the session was named after another 19-year-old Palestinian who was killed when he participated in violent clashes with the Israeli army. These two 19-year-olds serve the PA and Fatah in emphasizing to the young boys at the camp that a terrorist murderer is their hero, and that it is heroic to die for "Palestine":
Posted text:"Concluding ceremony of the Martyr Omar Abu Laila Camp (Martyr Yazan Abu Tubeikh session), which included members of the [Fatah] Shabiba High School [Movement]/Salfit Branch – Martyr Abu Jihad organizational region, Rafat [neighborhood] and Martyr Muhammad Ghaleb organizational region, Al-Zawiya [neighborhood]"

[Official Fatah Facebook page, Feb. 9, 2020]
Palestinian Media Watch has documented that immediately after terrorist Abu Laila was killed by Israeli soldiers, the PA started glorifying him as a hero, turning him into a role model. In two weeks, murderer Abu Laila went from being an unknown teenager to Palestinian symbol.
Fatah posted photos from the camp ceremony showing the high school boys dressed in military uniforms. In one image, the boys are seen carrying a casket in a symbolic funeral. The casket has a Palestinian flag on it and the picture of the teenage "Martyr."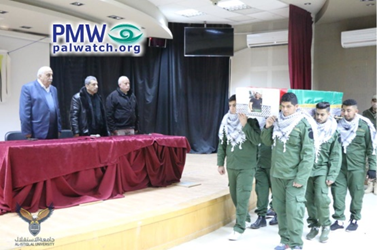 Another photo shows one of the camp participants giving a speech. In the background is a poster, and on its upper right is a picture of terrorist Omar Abu Laila. In the upper center are two logos: On the left is the Fatah Shabiba High School Movement logo that includes the PA map of "Palestine" that presents all of Israel as "Palestine" in the colors of the Palestinian flag; and on the right is the Fatah logo that includes a grenade, crossed rifles, and the PA map of "Palestine."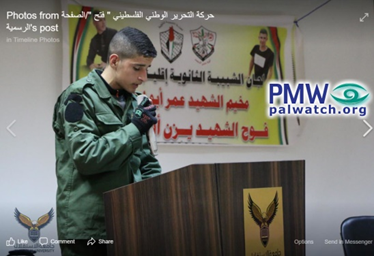 Text on poster: "The [Salfit] region Shabiba High School [Movement] committees – Martyr Omar Abu [Laila] camp – Martyr Yazan [Abu Tubeikh] session"

[Official Fatah Facebook page, Feb. 9, 2020]
Another photo shows the camp participants doing a military salute:

Omar Abu Laila – 19-year-old Palestinian terrorist who stabbed and murdered Israeli soldier Gal Keidan, and shot and murdered Rabbi Achiad Ettinger, a father of 12, at Ariel Junction on March 17, 2019. Abu Laila was killed on March 19, 2019, during an exchange of gunfire with Israeli soldiers who attempted to arrest him.
Note that the Fatah Shabiba regions were named after arch-terrorist Abu Jihad, responsible for murder of 125; and Fatah commander Muhammad who died on Aug. 24, 1988 during the first Intifada; PMW was unable to determine further details)
Abu Jihad (Khalil Al-Wazir) - was a founder of Fatah and deputy to Yasser Arafat. He headed the PLO terror organization's military wing and also planned many deadly Fatah terror attacks in the 1960's - 1980's. These attacks, in which a total of 125 Israelis were murdered, included the most lethal in Israeli history - the hijacking of a bus and murder of 37 civilians, 12 of them children.