Terrorist murderer serving 11 life sentences vows to continue "on the path"
Text posted on the official Fatah Facebook page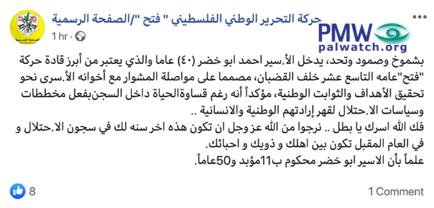 "With pride, resolve, and resistance – prisoner Ahmed Abu Khader (i.e., terrorist involved in numerous attacks including murder of 2), 40, considered one of the most prominent commanders of the Fatah Movement, has begun his 19th year behind bars while determined to continue on the path together with his brother prisoners in order to achieve the national goals and basic principles. Despite the difficulties of life in prison he is determined to carry out the plans (sic. Possibly thwart the plans) and policy of the occupation that were meant to suppress the national and human will. May Allah release you, hero! We ask of Allah that this be your last year in the occupation's prisons, and that next year you will be among your family, relatives, and loved ones. It should be noted that prisoner Abu Khader was sentenced to 11 life sentences and 50 years."
Ahmed Abu Khader – Palestinian terrorist and former member of the PA Security Forces, Al-Aqsa Martyrs' Brigades (Fatah's military wing), and Tanzim (Fatah terror organization), who trained terrorists for suicide missions; participated in shooting attacks against soldiers in the Nablus area and against the town of Chomesh, north of Ariel, in May 2001; and transported terrorists, including terrorists who shot and murdered 2 at the Netanya promenade on March 9, 2002, and a terrorist who shot at soldiers at a checkpoint near Baqa al-Gharbiyye in the Haifa area on Feb. 21, 2002. Abu Khader is serving 11 life sentences and an additional 50 years.