Neturei Karta Jews join protests outside the White House in solidarity with Palestinians against the Israeli peace agreements with UAE/Bahrain
Images and text posted on the official Fatah Facebook page: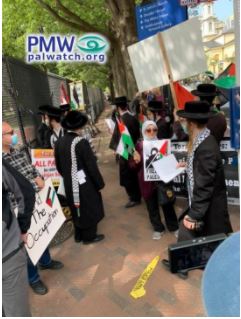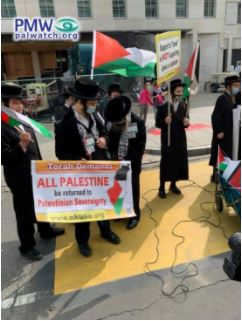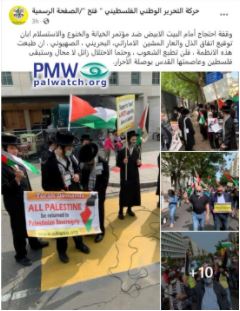 The images show protests outside the White House. Anti-Zionist Neturei Kartaei Jews are waving Palestinian flags and are participating in the protests.
In the image a Neturei Karta Jew is holding a sign with the PA map of "Palestine" that presents all of Israel (together with PA areas) as "Palestine", with the Palestinian flag overlaid on it.
Text on sign with flag: "Torah demands all Palestine be returned to Palestinian sovereignty www.nkusa.org"
Text on other sign: "Support to 'Israel' is not supporting Jews or Judaism"
Protesters are seen waving Palestinian flags.
One is holding a cartoon showing a Muslim in traditional garb with an Israeli flag on his forehead and "UAE" written on his body, shaking hands with an Israeli soldier with an Israeli flag on his forehead. The soldier's hands are covered in blood, and he is hiding a bloody knife behind his back. The two are standing in a massive pool of blood, and an arm is reaching out of the blood with "Palestine" written on its sleeve.
Another is holding a poster with an Israeli flag on it, with UAE Crown Prince Mohammed bin Zayed Al Nahyan to the left of the flag's Star of David and US President Donald Trump to the right.
Text on poster: "Trump announces a normalization agreement between the UAE and Israel
The hidden treason has become revealed"
Posted text: "A protest rally in front of the White House against the conference of treason, flattery, and submission during the signing of the UAE-Bahraini-Zionist agreement of disgrace, shame, and shaming (see note below –Ed.). These governments normalized [their relations], but not their peoples. There is no doubt that the occupation must go away, and that Palestine and its capital Jerusalem will remain the compass of the free people."
Israeli peace agreements with the UAE and Bahrain – an agreement normalizing diplomatic ties between Israel and the United Arab Emirates (UAE), called the Abraham Accords, was announced on Aug. 13, 2020, under the mediation of US President Donald Trump. Following the UAE, Bahrain signed a similar peace agreement with Israel, as was announced on Sept. 11, 2020. Pursuant to the Abraham Accords, Israel and the UAE will discuss bilateral cooperation on a number of topics. In exchange for the agreement, Israel agreed to suspend its previously announced plans to apply Israel's civilian law to parts of Judea, Samaria, and the Jordan Valley as per the Trump peace plan. The US announced that "Muslims throughout the world who wish to come in peace to pray at the Al Aqsa Mosque, will now be able to fly to Tel Aviv through Abu Dhabi to do so and will be welcomed."