PA calls for "freedom for" the terrorist who killed a ‎pregnant woman and her son
Official PA TV Live filler on Palestinian terrorist prisonersOfficial PA TV Live filler on Palestinian terrorist prisoners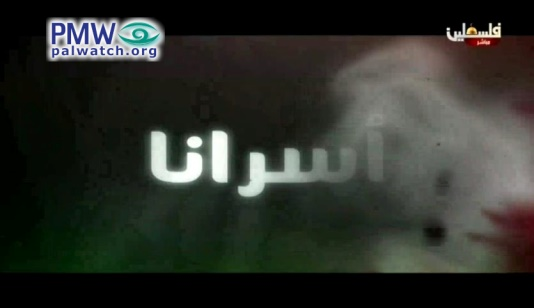 Text on screen: "Our prisoners"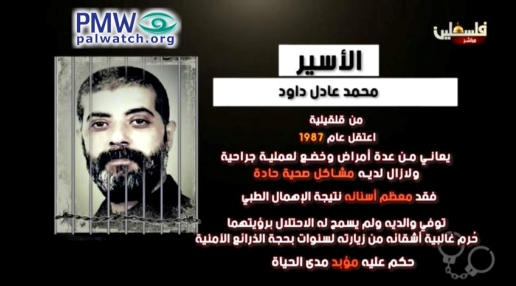 An image is shown of terrorist Muhammad Daoud, who murdered a pregnant woman and her young son.
Text on screen: "Prisoner Muhammad Adel Daoud from Qalqilya. He was arrested in 1987. He suffers from a number of illnesses. He underwent surgery and still suffers from a number of severe health problems. He has lost most of his teeth as a result of medical neglect. His parents passed away and the occupation did not let him see them. Most of his siblings have been forbidden from visiting him for years on security pretexts. He was sentenced to life."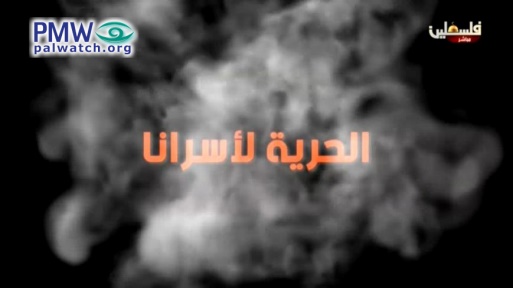 Text on screen: "Freedom for our prisoners"
Muhammad Adel Daoud - Palestinian terrorist who murdered Ofra Moses, who was pregnant, and her 5-year-old son, Tal Moses, by throwing a Molotov cocktail at their car on April 11, 1987. Daoud is serving a life sentence.
Libel on medical abuse of Palestinian prisoners - the PA claims that Israel abuses Palestinian prisoners, through medical neglect, medical experiments, and by intentionally infecting them with diseases. However, the International Red Cross regularly visits these prisoners and has not documented or accused Israel of any of these claims. Likewise, lists of demands occasionally issued by the prisoners during hunger strikes - such as during one in 2011 - include no demands relating to these claims. PMW has documented prisoners talking about how they "lack nothing" in the prisons, and that "the worst thing about Israeli prison" is riding in a prison vehicle that has no padding on the seat. When PMW contacted the Israeli Ministry of Health in 2007 regarding PA claims of medical experiments on prisoners, the ministry responded: "Clinical testing on prisoners in prison was never approved, never performed, and is most certainly not taking place at present."