Netanyahu is Hitler - Antisemitic Fatah cartoon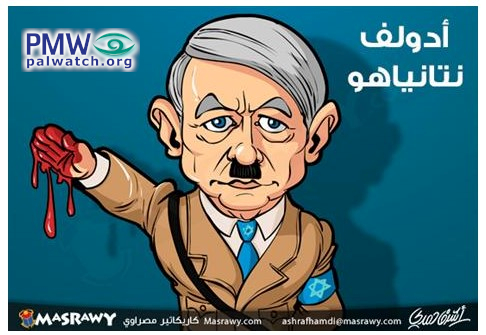 The antisemitic cartoon above was posted by Mahmoud Abbas' Fatah Commission of Information and Culture. It shows Israeli Prime Minister Benjamin Netanyahu as Hitler with Hitler's mustache and a Nazi uniform with Stars of David on blue instead of Swastikas on red on his tie and arm band. Netanyahu is making a Nazi salute and blood is dripping from his hand.
Headline: "He killed the Palestinians with the weapon of racism!"
Text on cartoon: "Adolf Netanyahu"

[Website of the Fatah Commission of Information and Culture, Feb. 16, 2021]
The International Holocaust Remembrance Alliance's (IHRA) internationally accepted working definition of Antisemitism, includes "drawing comparisons of contemporary Israeli policy to that of the Nazis."
The PA and Fatah have often disseminated this specific kind of Antisemitism by comparing Israel in general and Netanyahu in particular to the Nazis. Fatah has portrayed Netanyahu as a Nazi officer: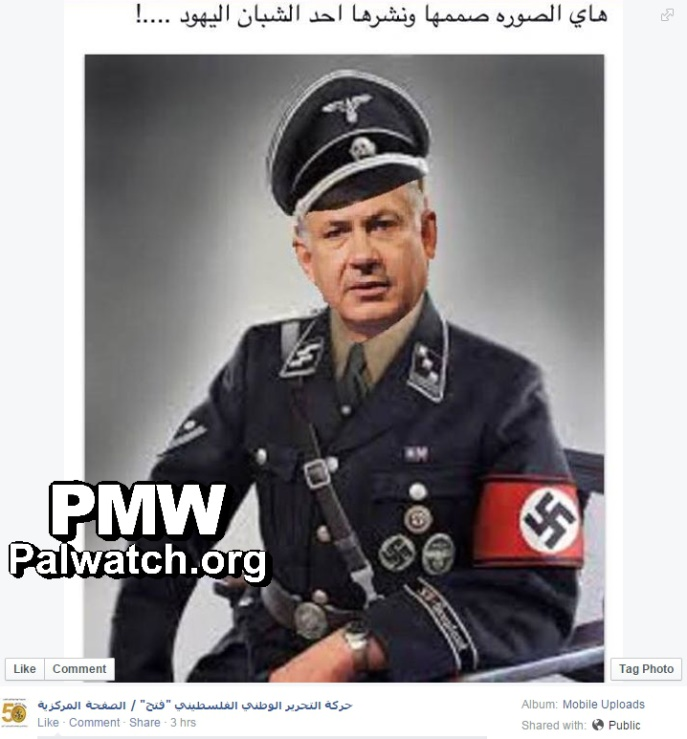 Netanyahu has been called Nazi propaganda minister "Goebbels' outstanding student":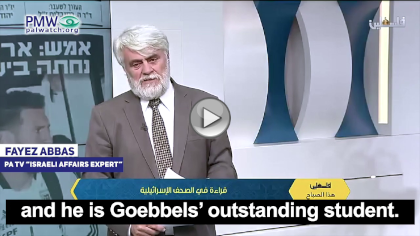 And recently Palestinian Media Watch documented that Netanyahu was referred to as "the ugly face of Mussolini and Hitler:
​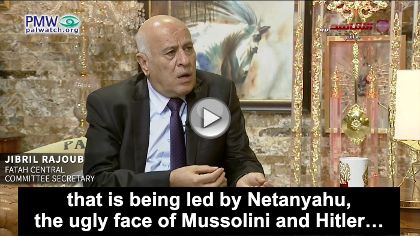 ​
Israel as such has been called "fascist and Nazi" and the behavior of Israelis has been compared to that of the Nazisprosecuted at the Nuremberg trials.
PMW has exposed numerous other antisemitic expressions by the PA and Fatah, some of which are documented in PMW's special report on Palestinian Authority Antisemitism entitled Jews must be fought for Allah on behalf of all humanity.