PA shows photo of dead Jews in Buchenwald concentration camp, and claimsit is "the village of Qibya, subjected to a savage massacre committed by units of the Israeli army"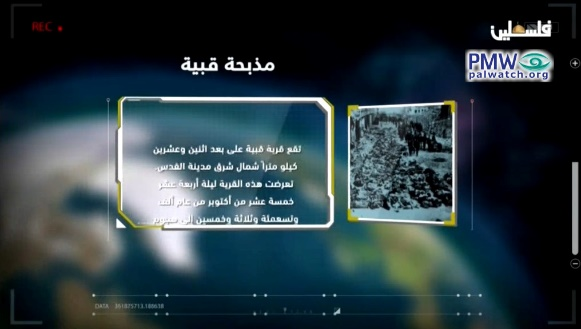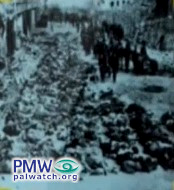 Official PA TV filler The TV Lexicon
Official PA TV Narrator: "On the night between the14th and 15th of October 1953, the village of Qibya was subjected to a savage massacre that was committed by units of the Israeli army (refers to counter-terror operation; see note below –Ed.)."
Visual:
Official PA TV falsely presented a picture of piles of bodies at the concentration camp of Nordhausen, originally a sub-camp of Buchenwald, as being from Qibya.
Qibya – On Oct. 14, 1953, a special Israeli cross-border counter-terror unit, Unit 101, led by Commander Ariel Sharon, carried out an operation in Qibya in Jordan, in response to an attack the previous day in which Jordanian terrorists infiltrated the border and murdered an Israeli woman and 2 children in Tiryat Yehuda with a grenade, and following hundreds of cross-border attacks since 1949 in which at least 124 Israelis had been murdered. In the counter-terror operation in Qibya, Unit 101 destroyed 50 homes with explosives, killing 69 Jordanian civilians who were hiding in the houses. Sharon reported that his forces were unaware of their presence.