Israel is off the map on PA TV kids' show
Itamar Marcus and Nan Jacques Zilberdik
|
PA TV children's show
depicts world without Israel

by Itamar Marcus and Nan Jacques Zilberdik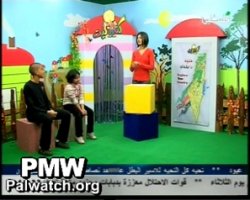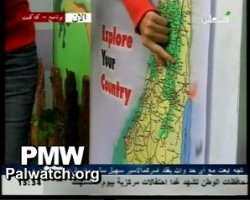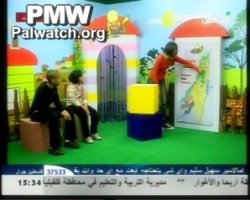 Pictures show PA TV host pointing to the map of "Palestine."
[PA TV (Fatah), March 14 and July 27, 2010]
During the Israeli-Palestinian Proximity Talks, Palestinian Authority TV has chosen to rebroadcast a children's program presenting a map that teaches children that Israel does not exist.

This comes shortly after PA Chairman Mahmoud Abbas publicly assured US President Obama: "And I say in front of you, Mr. President, that we have nothing to do with incitement against Israel, and we're not doing that." [White House press release, June 9, 2010]

Every episode of the PA TV children's program includes a special part teaching children about places in "Palestine." The map used by PA TV for this purpose is named "Palestine," yet also displays Israel as well as the Palestinian areas.
Additional text on the map in English reads: "Explore your country;" and in Arabic: "My country is beautiful."

The program was broadcast twice weekly from March to May this year and the old episodes are currently being shown twice daily.

PA TV is under the direct control of PA Chairman Mahmoud Abbas's office.

Maps labeling Israel as "Palestine" are an important element of the PA's ideological message of non-recognition of Israel and delegitimization of its existence.

Click here to see more examples from PMW's website of how the PA depicts a world without Israel.